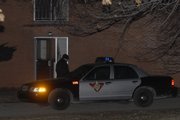 A 20-year-old man was arrested early this morning following a fight that injured five people in a south Lawrence apartment building.
Police were called at 4:15 a.m. to investigate a disturbance at Hampton Court apartments, which is in the 1700 block of West 24th Street.
Officers found four women and a man who had been cut by someone armed with a broken bottle, according to a police media release. The incident began when the injured man, 19, and the suspect got into a fight that ended in the hallway outside an apartment.
A helicopter ambulance was called and landed in a nearby parking lot. The 19-year-old was flown to a Kansas City area hospital for treatment of facial cuts.
A 27-year-old Lawrence woman was taken by Lawrence-Douglas County Fire & Medical to Lawrence Memorial Hospital to undergo surgery for cuts to her wrist, police said. Two other women, a 30-year-old from Lawrence and a 20-year-old from Anadarko, Okla., were also taken to LMH. A 21-year-old Lawrence woman was treated at the scene.
Copyright 2018 The Lawrence Journal-World. All rights reserved. This material may not be published, broadcast, rewritten or redistributed. We strive to uphold our values for every story published.