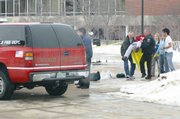 Dekalb, Ill. — Without saying a word, a gunman dressed in black opened fire in a Northern Illinois University geology class Thursday, killing five students and wounding 16. He fired at random, authorities said, until the moment he killed himself.
Students screamed and crawled on their bellies to escape the auditorium in Cole Hall as bullets and buckshot flew. The gunman, a former graduate student in sociology, carried a shotgun and two handguns. Police said he volunteered no motive before he died.
"It started and it stopped very, very quickly," the university's police chief, Donald Grady, said. "This thing started and ended in a matter of seconds."
Although the gunman carried identification from another college in the state, Northern Illinois President John G. Peters declined to identify him or the four women and one man who died. Four other students remained in critical condition at local hospitals. The class instructor, a graduate student, was wounded but is expected to recover, officials said.
Lessons learned
Late Thursday, with state troopers stationed at all campus entrances, administrators said they were confident that Cole Hall was the sole crime scene. They dismissed the suggestion that the shooting was connected to an incident of threatening graffiti that closed the campus, located 65 miles west of Chicago, in December.
Amid scenes that echoed the April 2007 assault at Virginia Tech by a student who left 32 people dead, Northern Illinois authorities said campus police were on the scene within three minutes. Within about 20 minutes, the school sent e-mail alerts instructing the university community to "get to a safe area and take precautions."
The all-clear was issued at 4:14 p.m.
"This is a tragedy, but from all indications we did everything we could when we found out," Peters said. "We've put in place so many security measures, and we're reviewing them all the time. Unless you locked every door, I don't know how you really keep people out. I don't know of any plan that can prevent this kind of tragedy."
Today's classes canceled
After the Virginia Tech killings, which took place in two campus locations, a state review panel criticized university administrators for not taking quicker action in shutting down the campus, saying it might have reduced casualties.
Peters announced that classes and activities would be canceled at the 25,000-student university today. He urged people to stay away from campus for now, although the dormitories remain open.
The gunman emerged about 3 p.m. from an entrance at the front of a large lecture hall near the end of a 75-minute introductory geology class, according to the university's account. He carried a shotgun and two pistols.
He began firing.
"He was quiet. He stood on the stage in the front of the room," student Sheila Cosgrove told Chicago radio station WBBM, describing him as a lean, tall white man. "I saw him holding the gun and it was huge. I thought it was fake, and then I realized he was actually shooting at people, and I got down."
Students recall scene
A student seated behind her was shot, Cosgrove said. Terrified, she crawled down an aisle to get to the door, soaking her jeans in blood, and scrambled out of the building. Emerging into a winter afternoon, she had left behind her coat, wallet and cell phone. She ran with a crowd of fleeing people toward the student center, she said.
George Gaynor, another student in the room, described the scene to the campus newspaper Northern Star, calling the scene terrifying and chaotic.
"Some girl got hit in the eye; a guy got hit in the leg," Gaynor said.
The gunman was "shooting at random, it would appear, into a group of people and not targeting anyone," university spokeswoman Melanie Magara told reporters at an evening news conference.
The gunman killed himself before he had used up his ammunition, officials said.
"Campus police report that the immediate danger has passed," read an e-mail from the university to the campus community. "The gunman is no longer a threat."
Panic grips campus
Even though the bloodshed was confined to Cole Hall, fear and panic spread through nearby buildings during and immediately after the shooting spree.
"People were running at me and screaming and freaking out," said Angela Siener, 24, a first-year law student who had just walked out of the building about 100 yards from Cole Hall. "They were saying there was a shooter. I decided not to go to the parking garage, because it didn't seem safe, so I went back into the law library and we were locked in for, like, two hours."
Inside the library, more than 50 students gathered around computers. They searched for news and to send messages to friends and relatives, and also tried to use their mobile telephones.
University officials closed the school for a day in early December and rescheduled some final exams after students found two separate threats scrawled on a bathroom wall in a residence hall. Authorities said today that the graffiti was not a credible threat, but Peters assessed it differently at the time.
"Events of the past several days remind all of us that community is more than a word," Peters said at the time, "and that threats against a group are a threat to us all."
Copyright 2018 The Lawrence Journal-World. All rights reserved. This material may not be published, broadcast, rewritten or redistributed. We strive to uphold our values for every story published.