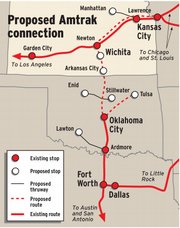 City commissioners Thursday were asked to jump on board a proposal to significantly expand Amtrak passenger train service in the state.
A grassroots organization of Oklahoma and Kansas leaders urged commissioners to pass a resolution encouraging the Kansas Legislature to support plans to establish new, more convenient passenger rail service between Kansas City and the Dallas-Fort Worth area.
"We're not talking about a system that would allow people to just travel through Lawrence," said Mark Corriston, the Kansas City director of the Northern Flyer Alliance. "We're talking about a train that would make it convenient for people to travel from Wichita to Lawrence to attend a sports event, or to come to stay overnight in downtown and do some shopping."
And unlike the current Amtrak train that travels through Lawrence, this new Amtrak service would arrive and depart from Lawrence's Burlington Northern Santa Fe Depot - just a few blocks east of downtown - during daylight hours.
The plan calls for one train to depart Kansas City about 7 a.m. and to arrive in Fort Worth about 10 p.m. Another train would leave Fort Worth at 7 a.m. and arrive in Kansas City about 10 p.m.
Proponents of the plan insist it is not just blue sky.
"It is not possible to do what we want to do today, but by 2010 I think there will be a lot of elements in place," Corriston said, referring to rising gasoline prices and a political environment more open to alternative forms of transportation. "I think the environment will be the best we've had in 30 or 40 years to do this."
City commissioners expressed interest in going along for the ride, as long as the project doesn't require commitment of city funds.
"I think rail travel does have a big future," City Commissioner Boog Highberger said.
The key to its future in Kansas, though, is to get the state to become a funding source. Proponents estimate it will take about $5 million worth of track improvements between Newton and Oklahoma City. The rest of the track is in place and meets passenger rail standards, said Evan Stair, the Oklahoma director of the Northern Flyer Alliance.
Much of that cost could be funded through a federal railway grants program that has been approved by the U.S. Senate but is awaiting approval in the House.
However, state leaders in Oklahoma and Kansas would need to figure out how to fund approximately $6 million in annual operating costs for the train. Amtrak would run the system but would charge the states to do so.
Members of the Northern Flyer Alliance - made up mainly of community and business leaders along the proposed route - have been seeking letters of support from cities throughout eastern and southern Kansas. Thus far, Newton, Strong City, Emporia, Arkansas City and Mulvane all have approved resolutions supporting the project, proponents said.
Mayor Sue Hack said she would plan to put a resolution of support on a future city commission agenda. But commissioners said they did want to learn a little bit more about how a new system would work, particularly about what assurances there would be that the trains would be convenient.
"When it is reliable, there is nothing like a train," City Commissioner Mike Dever said. "The problem is, people have gotten used to reliability. When it is not reliable, it gets overlooked very easily."
Stair said the biggest problem facing passenger trains was that they were often made to wait behind freight trains. But he said if state governments started investing in improvements to railroad tracks - which would still be owned by the rail companies - the states would be in a position to pressure the railroads to give more preference to passenger trains.
The system has worked well in parts of Oklahoma, Stair said. In the late 1990s, a new Amtrak route was established between Oklahoma City and Fort Worth. Original projections called for about 25,000 passengers a year. Instead, the service attracts about 70,000 riders. Fares for a round trip between Oklahoma City and Fort Worth are $50. The trip takes about four hours.
Stair said he thought Lawrence was the type of town that could particularly benefit from rail service because the city's Burlington Northern Santa Fe Depot is within walking distance of hotels, shopping and other amenities that would attract weekend visitors.
"What we're really talking about here is economic development," Stair said.
Copyright 2018 The Lawrence Journal-World. All rights reserved. This material may not be published, broadcast, rewritten or redistributed. We strive to uphold our values for every story published.