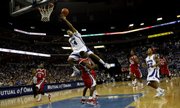 Memphis, Tenn. — This is what counts as a challenge these days for top-ranked Memphis: trailing at halftime to a team shooting well, even hitting from way beyond the arc.
The Tigers answered with smothering defense and pulled out what passes for a tight victory for this team.
Chris Douglas-Roberts scored 22 points and Memphis rallied from its first halftime deficit since Dec. 4 to remain undefeated with a 68-59 victory over Houston on Wednesday night.
This was the kind of game Memphis coach John Calipari wanted for his Tigers.
"If I have to raise my voice at this time of the year at halftime, then we're petering out," Calipari said of the 37-35 halftime deficit.
"I went in and I just said, 'This is what we needed. You're talking about a team that is playing for their lives. They outscrapped us, outrebounded us and made a few shots.' Some of them were like, 'Oh, my gosh.'"
The Tigers (24-0, 10-0) have won 47 straight games on their home floor, 53 in a row in the regular season and 33 straight in Conference USA.
Robert McKiver had 21 points for Houston (18-5, 7-2), which had won three straight.
The Cougars dropped to 2-11 against top-ranked teams. Houston hasn't beaten a No. 1 team since Feb. 18, 1978, against Arkansas.
Antonio Anderson added 12 points, and Derrick Rose had 10 for Memphis. Tafari Toney had 14 points for the Cougars.
It was the first time the Tigers have trailed at halftime since Southern California led 29-24 in New York.
No. 2 Duke 77, Maryland 65
Durham, N.C. - Freshman Kyle Singler scored a season-high 26 points, and Duke withstood Maryland's comeback attempt to beat the Terrapins for its 12th straight win.
Greg Paulus added 20 points for the Blue Devils, who blew most of a 16-point lead but used an 11-2 run to snap Maryland's four-game winning streak. Greivis Vasquez scored 25 points for the Terrapins.
No. 4 Tennessee 93, Arkansas 71
Knoxville, Tenn. - JaJuan Smith scored 32 points, including six three-pointers, to lead Tennessee past Arkansas. Tyler Smith and Wayne Chism both added 15 points for the Volunteers, while Duke Crews had 11 points and 11 rebounds.
No. 12 Xavier 62, Charlotte 60
Charlotte, N.C. - Josh Duncan scored 25 points, including the clinching three-pointer with 15.9 seconds left, and Xavier survived its third straight close call. Overcoming foul trouble and 31 points from Charlotte's Leemire Goldwire, the Musketeers (21-4, 9-1 Atlantic 10) got their seventh straight win behind Duncan's career high-matching performance and clutch shot.
No. 15 Wisconsin 68, No. 13 Indiana 66
Bloomington, Ind. - Brian Butch banked in a three-pointer with 4.5 seconds left, and Wisconsin held on against Indiana. Jason Bohannon had 18 points and Michael Flowers added 15 for the Badgers.
Southern Illinois 65, No. 14 Drake 62
Carbondale, Ill. - Randal Falker had 13 points and 10 rebounds, and Southern Illinois snapped Drake's 21-game winning streak. Leonard Houston's three-pointer that could have sent the game into overtime bounced off the rim at the buzzer. Josh Young led Drake with 17 points.
No. 17 Connecticut 84, No. 20 Notre Dame 78
Storrs, Conn. - A.J. Price scored 26 points, and Connecticut won its eighth straight game. The Huskies (19-5, 8-3 Big East) survived a 32-point effort from Notre Dame's Luke Harangody, who also had 16 rebounds. The loss snapped a five-game winning streak for the Irish (18-5, 8-3).
Copyright 2018 The Associated Press. All rights reserved. This material may not be published, broadcast, rewritten or redistributed. We strive to uphold our values for every story published.