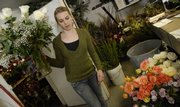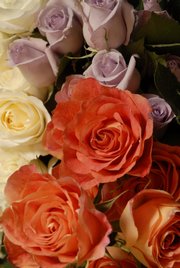 I cannot help but chuckle on Valentine's Day.
There are so many mixed sentiments intertwined with this particular holiday. Does he love me? Are we meant to be? Is this relationship doomed?
Our poor little flower friends certainly have a lot to live up to. They can either dash someone's hopes or solidify their dreams.
Are you eyeing the bouquet sitting there on your desk or dining table, wondering what the giver was attempting to say by bequeathing this sweet-smelling token your way?
"That is such an interesting question," says Sharon Reynolds, owner of Owens Flower Shop, 846 Ind., "because people's perception of the same flower can be very different.
"For instance, red carnations signified a funeral flower to one of our clients and she became really infuriated when she was given a bouquet at Christmas with red carnations. The same is true with lilies and gladiolas; many people associate them with funerals. I spend a lot of time trying to break some of these misconceived notions. I mean, a vase of nothing but upright glads is one of the greatest pleasures in life."
What a shame it would be to save that experience for a time when you cannot even enjoy it.
"Flowers have spoken to me more than I can tell in written words. They are the hieroglyphics of angles, loved by all men for the beauty of their character, though few can decipher even fragments of their meaning."
- Lydia M. Child
Let's try to decipher the meaning of flowers, based on traditional meanings.
If you want to send your trainer a bouquet to thank them for making you buff, send alliums, because they signify strength. Or maybe your boss is giving you a raise; a helpful hint would be a bunch of alstroemeria, as it is a sign of wealth and prosperity.
Are you feeling a little jilted - is there something stewing in you? Begonias will get the point across by saying "beware." Is there a jokester who makes you bust a gut whenever you are together? Clematis states "clever."
Good old mom should receive some daylilies, as they are the emblem of mothers. For the jocks out there, nothing says "get into the game" like hyacinth.
Did a tutor save your GPA? Present them with irises, which mean wisdom. Do you know someone who has been down and out? Drop off some lily of the valley at their door, for it signifies the return of happiness.
Do you work with someone who just cannot seem to get it together? Send that person poppies, and you will be subtly by saying, "Hey, get out of that eternal sleep and stop living in oblivion."
Did a significant other send you tulips? Pat yourself on the back, because that means you are the perfect lover! What if you just wanted to thank someone for a lovely time? Sweet peas are the perfect flower to convey your thoughts.
"Roses are, of course, the most popular this time of year," Reynolds says. "They have historically been for telling someone you love them. Tulips are very colorful and more modern. They can be very showy with just their foliage hanging down, plus they are less expensive. To me, tulips are really a breath of spring."
Even Reynolds cannot help but place a meaning on certain flowers. It is just an inevitable way of perceiving the life around us.
I worked as a florist for a half a decade, and I am not without preconceived definitions. To me, orchids are magnificent and unique; long-stemmed red roses are tired and predicable, and my husband would surely know better.
Now, a short, tight, round bouquet of various shades of red roses I would adore. Pincushion protea with palm leaves or ti leaves would be a big hit at my house. Alstroemeria would not illicit the same reaction.
So, how do you win? Are we reading too much into the mere gesture and missing the point, which is simply the sentiment? Maybe the best advice is to pay attention the rest of the year and know which flowers light up your sweetie's face. Who cares what flowers FTD says "I love you"? I don't know that winged man, and frankly, he has never had a finger on my pulse as to my floral favorites.
"You can't be suspicious of a tree, or accuse a bird or a squirrel of subversion or challenge the ideology of a violet."
- Hal Borland
Simplicity can often be the best avenue - one beautiful bloom or type of flower in a vase often is the unsurpassed path to wowing your loved one.
The real meaning is not in the amount of money spent or the color of the rose or how many roses are in the vase. The true moment of reckoning is when the words spawned from your head that have been emblazoned on that little card are read - plain and simple - and not some impossible language of flowers.
We clearly read too much into that language anyway.
Copyright 2018 The Lawrence Journal-World. All rights reserved. This material may not be published, broadcast, rewritten or redistributed. We strive to uphold our values for every story published.