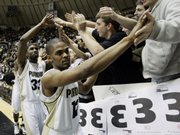 What Keegan says
Here's an idea: If a college basketball referee makes such an absurd judgment call, the other two officials should be able to blow their whistles, eject him from the game, nullify his call and recommend him for a suspension.
Call it the Bob Donato rule. He was the ref who made the ridiculous game-deciding call Monday in favor of Georgetown and against Villanova.
Villanova's Corey Stokes was tagged with a foul for nudging Georgetown's Jonathan Wallace 70 feet from the hoop Monday with a tenth of a second left in a tie game. A ref who doesn't know the score and clock is as incompetent as a player who doesn't.
Sure, if the game had gone into overtime local viewers would have missed even more of the entertaining first half of the Kansas-Texas game, but even that didn't justify the goof.
- Tom Keegan
West Lafayette, Ind. — Purdue students didn't storm the court after the Boilermakers beat Michigan State.
That's because they're no longer surprised when the Boilermakers win big games.
Robbie Hummel scored a career-high 24 points as No. 19 Purdue beat No. 10 Michigan State, 60-54, Tuesday night.
Just weeks ago, fans flooded the court and lifted Hummel on their shoulders after a win over then-No. 11 Wisconsin. They stayed put this time, something Purdue captain Chris Kramer considered a sign of progress.
"I'm glad they didn't rush the floor," Kramer said. "I feel when they rush the floor, it's like you don't expect to win. We've got to come into every game expecting to win."
E'Twaun Moore scored 12 points and Keaton Grant added 11 for Purdue, which won its 10th straight game to remain alone in first place in the Big Ten. The Boilermakers (20-5, 11-1 Big Ten) have won at least 20 games for the second straight year.
The Boilermakers won at then-No. 10 Wisconsin on Saturday. It's the first time in school history Purdue has beaten Top 10 teams in back-to-back games.
"It's a great feeling," said Hummel, who also grabbed 11 rebounds and made four of seven three-pointers. "We've put ourselves in position coming down the stretch in the Big Ten season. It's just a total team effort."
Freshman guard Kalin Lucas scored a career-high 20 points for Michigan State, and Raymar Morgan scored all 12 of his points in the second half for the Spartans (20-4, 8-3).
Michigan State guard Drew Neitzel, who averaged 14 points, was held to six points and one field goal. Kramer, who had four points, five assists and five steals, was assigned to Neitzel for most of the night.
No. 5 North Carolina 75, Virginia 74
Charlottesville, Va. - Tyler Hansbrough scored 27 points, including a critical baby hook with 21 seconds to play, and North Carolina once again survived a surprising challenge before holding on.
The Tar Heels (23-2, 8-2 Atlantic Coast Conference), coming off a double overtime victory against Clemson on Sunday, got all they could handle from the Cavaliers, who had lost nine of 10 but played nothing like a team in a hopeless free fall.
Virginia (11-12, 1-9), trying to avoid its first 1-9 start in the league since the 1976-77 season, came up short, but not without its best showing in almost a month.
Wayne Ellington added 19 points and Deon Thompson 12 for North Carolina.
Sean Singletary scored 27 points to lead the Cavaliers, but several other players made big plays - an element that has been sorely lacking for coach Dave Leitao's team.
The Tar Heels led throughout the second half, but Virginia got within five several times, keeping the crowd very much into it, and prepared for one more Cavaliers run.
Trailing 60-55, Mamadi Diane scored in the lane for Virginia, and after a miss by the Tar Heels, Laurynas Mikalauskas scored inside for Virginia to make it 60-59.
No. 9 Butler 83, Wisconsin-Milwaukee 75, OT
Milwaukee - Mike Green scored 10 of his 24 points in overtime, and had 13 rebounds and eight assists despite spraining his right ankle to help No. 9 Butler rally to beat Wisconsin-Milwaukee.
No. 22 Pittsburgh 82, Providence 63
Pittsburgh - Sam Young scored 22 points, and No. 22 Pittsburgh limited Providence to six points in the opening 11 minutes of the second half, allowing the Panthers to pull away for a Big East victory.
No. 23. Louisville 88, DePaul 68
Rosemont, Ill. - Terrence Williams tied a season-high with 22 points, and David Padgett set one with 20 to lead Louisville to its 10th win in 12 games. It was an easy night for the Cardinals (19-6, 9-3 Big East), who jumped into the Top 25 and shook up the Big East race by beating then-No. 16 Marquette and then-No. 6 Georgetown last week.
No. 24 Vanderbilt 93, Kentucky 52
Nashville, Tenn. - Shan Foster scored 20 points, and A.J. Ogilvy added 19 points and 12 rebounds as Vanderbilt handed the NCAA's winningest team one of its worst losses in decades. The Commodores (21-4, 6-4 Southeastern Conference) started a four-game homestand by winning their fourth straight.
Copyright 2018 The Associated Press. All rights reserved. This material may not be published, broadcast, rewritten or redistributed. We strive to uphold our values for every story published.