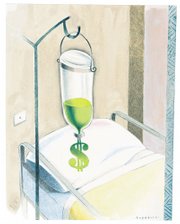 Americans have lost confidence in the U.S. health care system and yearn for reforms that will free them from worry about losing coverage if their circumstances change or if they fall ill.
In a recent Consumer Reports survey, more than 80 percent of the 1,200 Americans age 18 and older polled said that a reformed system should guarantee the following:
¢ Coverage for all uninsured children.
¢ Protection against financial ruin because of a major illness or accident.
¢ The ability to obtain coverage regardless of a pre-existing condition.
¢ Coverage that continues even when people are laid off, changing jobs or starting their own business.
¢ Premiums, deductibles and out-of-pocket expenses that are affordable relative to family income.
¢ The ability of people to keep their current health insurance if they choose.
Right now, pessimism about U.S. health care costs prevails among consumers regardless of age, gender, political orientation or family income. Overall, 81 percent of those CR polled said they are concerned about being able to afford health care in retirement, 68 percent worry about being bankrupted by medical bills following a serious illness or accident, and 65 percent fear losing their job-related health coverage.
Respondents laid the blame for America's health care problems mainly on drug and insurance companies.
When asked about how, exactly, a reformed health system would work, respondents were considerably more divided than they were about what such a system should achieve. CR asked consumers for their opinions approaches to reform, including those proposed by leading presidential candidates.
The most popular proposal drew support from half of the respondents. That was for a mixed public/private system that would require all uninsured Americans to buy health insurance. The cost of the insurance, deductibles and co-pays would be adjusted based on income, with subsidies for lower-income Americans.
Thirty-six percent of respondents support public insurance, which would move all Americans to a Medicare-like plan funded by federal taxes.
Copyright 2018 The Lawrence Journal-World. All rights reserved. This material may not be published, broadcast, rewritten or redistributed. We strive to uphold our values for every story published.