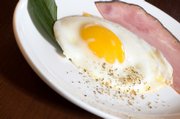 There are more weird holidays out there than one can count - February alone is National Pet Dental Health Month, National Bird Feeding Month and Return Shopping Carts to the Supermarket Month - but none of those can keep you warm on a frigid winter day.
Not so for National Hot Breakfast Month, which kicked off Feb. 5 with "Pancake Tuesday." The month, promoted by sausage-maker Jimmy Dean, wants the estimated 60 percent of Americans eating cold cereal and other non-hot breakfasts to take a shot at something warm on these cold February days.
But you don't have to scarf down platefuls of sausage links to get out of your cereal rut. Here's a look at some other breakfast options and weird facts from foodreference.com:
¢ In rural homes in the 1800s, fruit pie (like apple and cherry) was commonly eaten at breakfast.
¢ Radishes were often on the breakfast tables of the Pennsylvania Dutch families. Today, radishes are a frequent breakfast item in Japan.
¢ Ham and eggs, long considered to be the American breakfast, were also a breakfast staple for Egyptians in 1500 B.C.
Dig in, but don't overdo it, unless you plan on cleaning up in March - National Nutrition Month.
Copyright 2018 The Lawrence Journal-World. All rights reserved. This material may not be published, broadcast, rewritten or redistributed. We strive to uphold our values for every story published.