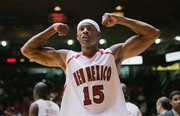 Albuquerque, N.M. — J.R. Giddens was recruited to Kansas University by Roy Williams and now plays at New Mexico under Steve Alford.
In between, he was stabbed in a bar fight and reluctantly agreed with Jayhawks coach Bill Self to leave Kansas. The notoriety lingered when then-New Mexico coach, Ritchie McKay, prematurely predicted Giddens would be an NBA lottery pick.
"It's been long journey, man," Giddens said. "Different coaches, different players. I grew up with guys at Kansas and I grew up with guys at New Mexico. It's been a big learning process."
Giddens turns 23 today when New Mexico visits San Diego State (16-7, 6-3).
He remains a scoring threat, putting up a career-high 36 points in a 100-55 win over Wyoming last weekend. But he's also developed into a team player in Alford's first season, averaging 14.3 points and 8.5 rebounds as a senior for the Lobos (18-6, 5-4 Mountain West).
"He's matured. He's grown," Alford said. "He's been an incredible teammate. He's been unselfish, too unselfish at times, almost to a fault. Yet he's been our guy, and you've got to have somebody like that."
In many ways, Giddens has been trying to find himself since transferring to New Mexico after the 2004-05 season.
A star coming out of high school in Oklahoma City, he was recruited to Kansas by Williams, who then left for North Carolina. Giddens suited up for Self, averaging 10.1 points and 3.8 rebounds as a sophomore.
But he was criticized for inconsistency and poor defense, and the bar fight in May 2005 became a public-relations disaster. Giddens needed 30 stitches for a knife wound and now wears a sleeve over his right calf.
Giddens arrival - the first McDonald's All-American to play for the Lobos - was heralded at New Mexico. After a redshirt year, he averaged a team-leading 15.8 points as a junior last season, along with 6.5 rebounds.
But early last season, McKay declared Giddens would become an NBA lottery pick.
That forecast was grounded in Giddens' remarkable athleticism, but the comment built up expectations and arguably contributed to McKay's firing late in a 15-17 season - after a 5-0 start.
"It brought some extra attention to J.R. that he might not have needed," teammate Daniel Faris said earlier this season.
Alford's arrival from Iowa has been a healthy change for Giddens.
One of the coach's first objectives last spring was breaking up cliques that existed previously. He confronted that issue by making his players live together in dormitories.
Alford also told Giddens to get his academics in order.
Giddens responded, hitting the books and agreeing to help teammates buy into the new coaching staff's philosophy. Alford imposed structure that Giddens said was missing.
"This staff has been a lot more disciplined," Giddens said. "We stay in the hotel a lot more on the road. We don't go out to eat quite as much or go to the mall. We just stay inside and focus on our game plan."
Copyright 2018 The Associated Press. All rights reserved. This material may not be published, broadcast, rewritten or redistributed. We strive to uphold our values for every story published.