Photo Gallery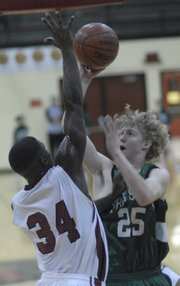 FSHS boys vs. Shawnee Mission North
Overland Park — Kris Wilson had had enough.
Enough of the Free State High boys squad starting games slow and not being focused.
So the senior stepped in to deliver the pregame speech before the Firebirds faced Shawnee Mission North on Tuesday.
Whatever it was he said, his teammates took to heart.
Free State came out fast and furious and never let up in a 68-44 victory over Shawnee Mission North.
"I thought I'd get everybody pumped up more than they normally are going into games," Wilson said. "I just talked a little bit, and we came out focused. It was mostly about being focused and being more ready to play when we head into games and just coming together as a team."
Wilson walked the walk to go with his talk and scored nine points, had seven assists and turned the ball over just once.
FSHS coach Chuck Law said he didn't mind turning the floor over to his players before the game - and is even considering doing it more often.
"I had very few things to say. They're tired, at this time of the year, of listening to me so I let the seniors in particular set the tone in terms of what was said in the locker room," Law said. "Kris really stepped up and took the leadership role. That's one of the few games in the last three or four we've played where we actually came out and didn't dig ourselves a big hole right from the get-go. So maybe my pregame talks should just be tucked away forever and let them do it."
The only ones digging themselves into a big hole early were the Indians.
With the Firebirds establishing the transition game and having success from the perimeter, FSHS held SMNHS to just one point in the first quarter and grabbed a 21-1 lead.
Free State was 9-for-10 from the field, outrebounded Shawnee Mission North 15-4 and scored 10 of its 21 points in transition in the first frame.
"We focused on securing the rebound and get it out to the guards and push it up into our primary break, or if it's not there, our secondary break," said Weston Wiebe, who had 11 points and 10 rebounds in the game.
A strong shooting performance by junior Jake Miller offset the few times the Indians did prevent the Firebirds from getting out in transition.
Miller was 6-for-7 from the field - 3-for-4 behind the arc - and finished with a game-high 15 points.
"Not very often does a night like this come along," Miller said. "So it's a good feeling."
Law said Miller's outside shooting of late has been a "solid addition" to the team's lineup.
His teammate, Wilson, also has taken notice and said that Miller's role on the team will become essential as the season progresses.
"Jake was feeling it a lot. He shot great from outside," Wilson said. "He was just making them, so we kept finding him. When we can't get inside and Jake's shooting well, that's going to help us in the long run."
Miller responded with, "I'd love to take that role. Get the guys off Weston in there, so maybe it will open him up inside - him and Craig (Rosenstengle). If me and Conner (Monarez) and Kris can hit shots outside, that will be huge for the team."
Copyright 2017 The Lawrence Journal-World. All rights reserved. This material may not be published, broadcast, rewritten or redistributed. We strive to uphold our values for every story published.