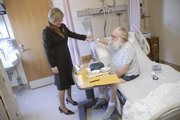 Leonard Mitchell was sitting on the edge of his hospital bed eating lunch Tuesday when in walked U.S. Rep. Nancy Boyda.
"Are they treating you well? Anything you want me to know about?" the Kansas Democrat asked.
Mitchell had a lot to say to Boyda about his treatment at Leavenworth's Dwight D. Eisenhower Veterans Affairs Medical Center. And all of it was good.
"They got good people here. They treat me very well," said Mitchell, a Kansas City, Kan., resident who served with the Army's 82nd Airborne Division in the 1970s and '80s.
Boyda spent a little more than an hour visiting a few patients and staff at the medical center. On Monday, Boyda visited the Colmery-O'Neil VA Medical Center in Topeka.
Her trips come in the same week that Boyda cosponsored a House resolution supporting the goals and ideals of National Salute to Hospitalized Veterans Week, which is always celebrated the week of Valentine's Day. The resolution honors the sacrifices of hospitalized American veterans and encourages all Americans to take time to visit their local VA hospitals.
None of the patients Boyda spoke with at Eisenhower had anything negative to say about their medical care. All were very complimentary. The same was true during her visit to Colmery-O'Neil, she said.
Mitchell, who said he'd been treated for multiple health problems, even liked the food at Eisenhower. "It's better than most hospital food," he said.
Boyda said she wasn't surprised that she hadn't received any complaints about hospital care. "What I hear consistently, whether I'm out in the community or here in the VAs, is that the care they receive is consistently good," she said. "It's not perfect. Nobody's perfect."
Boyda said most of the problems she hears about concerning the VA center are on the benefit side. "What I hear is that once (they) get through the paperwork, once (they) get to the VA hospital, they receive good care."
Last year there was a fight in Congress over adding $3.7 billion to the national VA budget on top of President Bush's recommendation. That funding eventually was added and some of the money will go toward renovation of Eisenhower's intensive care unit.
Renovation of the ICU will cost about $3 million, said Jim Gleisberg, a medical center spokesman. The renovation will include seven individual rooms for ICU patients centered on a nursing station. Now, some ICU patients are separated only by curtains.
Also on the project list at Eisenhower is a $9.5 million plan to move the VA nursing home closer to the hospital, Gleisberg said. It currently is a half-mile away.
Copyright 2018 The Lawrence Journal-World. All rights reserved. This material may not be published, broadcast, rewritten or redistributed. We strive to uphold our values for every story published.