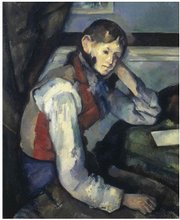 Paris — Three masked men pulled off one of the largest art heists in decades this week, forcing workers at a Swiss museum to lie on the floor while they stole four paintings by impressionist and post-impressionist masters worth an estimated $163 million.
Police and museum officials said the theft of paintings by Paul Cezanne, Edgar Degas, Claude Monet and Vincent van Gogh occurred at the E.G. Buehrle Collection in Zurich.
"We're talking about the biggest ever robbery carried out in Switzerland, even Europe," Zurich police spokesman Mario Cortesi told reporters.
Police said the robbery occurred about 30 minutes before closing time Sunday, when three men wearing dark clothes and ski masks, one of them carrying a handgun, entered the museum's main entrance and ordered people to lie down. As the armed man watched the door and the frightened staff, the two others went into a nearby exhibit hall and removed the paintings.
Museum director Lukas Gloor said at a news conference that the paintings were displayed behind glass panels and that an alarm was triggered as soon as they were touched.
The paintings - "Poppies near Vetheuil" by Monet, "Count Lepic and His Daughters" by Degas, "Blossoming Chestnut Branches" by van Gogh and "The Boy in the Red Vest" by Cezanne - were among the most prized in the museum's collection, he said.
Copyright 2018 The Lawrence Journal-World. All rights reserved. This material may not be published, broadcast, rewritten or redistributed. We strive to uphold our values for every story published.