Photo Gallery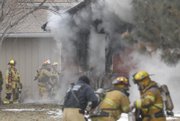 Fire at W. 27th Street
Lawrence Fire and Medical crews this morning reponded to a house fire at 1507 W. 27th.
Witnesses describe seeing a passerby enter the burning house to help another person out of the home. Brad Shuck, the passerby, noticed the flames, called 911 and then yelled into the home to see if anyone needed help.
A physically disabled occupant of the home responded, saying he was on the floor and not able to move. Shuck crawled on the floor and pulled the man to safety. The man was transported by ambulance to the hospital.
The fire started shortly before 10 a.m. The first fire crews on the scene reported seeing intense flames coming from the home.
Copyright 2018 The Lawrence Journal-World. All rights reserved. This material may not be published, broadcast, rewritten or redistributed. We strive to uphold our values for every story published.