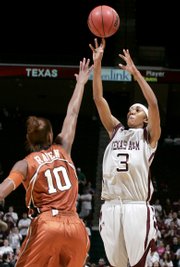 College Station, Texas — Danielle Gant scored 25 points, and No. 21 Texas A&M; fought off Texas' second-half rally Saturday to get a 66-57 victory, the Aggies' fourth straight.
The loss is the third in a row for Texas (15-8, 3-6 Big 12) and drops its conference road mark to 0-4. Earnesia Williams led the Longhorns with 12 points, and Brittainey Raven and Ashley Lindsey added 10 apiece.
The 21st-ranked Aggies (17-6, 5-4) led by as many as 19 points early in the second half before a scoring drought allowed the Longhorns to get back in the game.
Texas A&M; was up by 14 points with about seven minutes left when Texas went on a 14-4 run over the next four minutes to make it 57-53.
After both teams made a pair of free throws, A'Quonesia Franklin, who had nine points and 10 assists for the Aggies, made one of two free throws.
Texas' Carla Cortijo then missed a layup on the other end, and the Aggies added two more free throws to push their lead to seven with less than 30 seconds remaining.
Williams made a layup for Texas, but the Longhorns were forced to foul again, and Sydney Colson made both free throws to seal the outcome.
No. 5 Baylor 68, Texas Tech 45
Waco, Texas - Danielle Wilson scored 18 points, and Baylor extended its best start in school history.
Angela Tisdale added 14 points, and Rachel Allison had 13 points and 12 rebounds for the Bears (21-2, 9-1 Big 12), who were coming off their first loss since mid-December after being upset by Oklahoma State on Tuesday and snapping their 13-game winning streak.
Stanecia Graham had 11 points and 14 rebounds to lead Texas Tech (14-9, 2-7).
Jordan Murphree added 10 points.
No. 10 Oklahoma 82, Colorado 66
Norman, Okla. - Courtney Paris can now claim as many double-doubles as any man who ever played college basketball.
The reigning AP player of the year notched her 87th career double-double by scoring a season-high 30 points and grabbing 14 rebounds to lead Oklahoma.
While there is no established women's record, Tim Duncan set the men's mark with 87 double-doubles at Wake Forest before winning four NBA titles with the San Antonio Spurs.
Paris has reached double figures in points and rebounds in 87 of her 90 career games.
Iowa State 64, Missouri 46
Ames, Iowa - Iowa State scored 10 unanswered points to open the second half, pulling away from Missouri.
Copyright 2018 The Associated Press. All rights reserved. This material may not be published, broadcast, rewritten or redistributed. We strive to uphold our values for every story published.