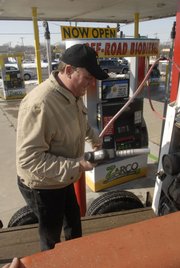 Thursday saw the grand opening of Zarco 66, an "eco-friendly" gas station that specializes in biofuels.
"We've got our earth-friendly fuels location up and running," said Scott Zaremba, president of the Zarco 66 at Ninth and Iowa streets.
The station sells E10 ethanol, E85 ethanol, biodiesel and off-road biodiesel. Each type of biofuel is supposed to lower emissions of greenhouse gases harmful to the environment and the air we breathe. Zaremba said the company is "trying to come up with an alternative to the usual fossil fuels we have today."
Emissions from fossil fuels that are used to produce gasoline have an insulating effect on the planet, environmentalists say.
"The more carbon dioxide and other greenhouse gases you have, the more of a greenhouse effect you get," said Ilya Tabakh, a Kansas University graduate student who co-founded the KU biodiesel initiative, a program devoted to finding alternative fuel sources.
Tabakh said the greenhouse effect is dangerous because "it doesn't let heat leave the planet."
But biofuel does have its detractors. "Yes, biofuel lowers emissions, but unleaded fuel will not eat through rubber 'O'-rings for fuel injectors or gaskets," said Jim Vojtech, a mechanic at Automotive Analysts Inc. in Lawrence. There is also a debate as to the amount of emissions used to make it, he said.
But that didn't stop customers from rolling in to the Zarco station Thursday.
"I'm pretty excited about the new fuel," said Beth Anstaett, of Lawrence. "I wish I could do more, but all I can do is E10."
A majority of the gasoline produced today contains E10 ethanol, or grain alcohol. E85 is made up of 85 percent ethanol - made largely with Midwest corn - and just 15 percent gasoline.
Any car manufactured after 1980 can run on this type of gasoline, but to run on E85, a car's engine must be converted.
Anstaett says every bit counts. "We should try to find a more sustainable fuel source instead of looking abroad," she said.
It's that type of person Zaremba hopes to draw. "We think the community can embrace trying to help us move forward with other energy sources," he said.
On Thursday, a gallon of E10 cost $2.85. A gallon of E85 cost $2.45.
Copyright 2018 The Lawrence Journal-World. All rights reserved. This material may not be published, broadcast, rewritten or redistributed. We strive to uphold our values for every story published.