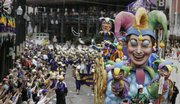 New Orleans — Douglas Barry spent Mardi Gras shouting warnings at the wildly costumed merrymakers on Bourbon Street as he carried a big sign reading, "Heed the Words of God."
"We don't really approve of Mardi Gras," said Barry, a member of the Bible Believers, a Christian group that travels to large gatherings to preach. Around him were men dressed in pink baby-doll pajamas or leather loincloths and women flashing glimpses of flesh for beads.
Barry took photographs Tuesday as other members of his group preached to the revelers, who either ignored them or yelled back their own counterpoints.
"Not everyone welcomes our message," Barry said. "But people never need to hear it more than today."
Historically, Fat Tuesday was when people used up the fat in their larders before Ash Wednesday and the austerities of Lent. In Louisiana, it's the last of 12 days of Carnival parades and parties, a celebration characterized by family friendly parades uptown and in the suburbs - and by heavy drinking and lots of near-nudity in the French Quarter.
Not all the costumes were scandalous. Many had a political theme in honor of Super Tuesday, though Louisiana was not among the 24 states holding presidential primaries or caucuses.
Kim Disselliss, 49, simply taped a sign to her back showing Sen. Hillary Clinton dressed as George Washington and reading, "Monica Lewinsky's X-Boyfriend's Wife for President. 2 for 1 Sale."
Temperatures hit a high of 80 degrees in New Orleans, an indicator that flesh-flashing in the bawdy French Quarter was likely to be greater than usual. Crowds that had begun staking out spots on the parade routes as early as Friday night spent the day collecting beads and other trinkets thrown from floats.
Crowd estimates were not expected until today, but the celebration appeared to have bounced back strongly since Hurricane Katrina flooded more than 80 percent of the city in 2005.
Mardi Gras crowd estimates hovered around 1 million in the years before Katrina, and the crowd reached about 800,000 last year. This year, however, some worried turnout would be lighter because the celebration fell so early.
Kevin Kelly, who lives on the parade route, said the crowds did seem quieter. It was too early for college students on spring break to join the party, Kelly pointed out.
"And frankly, it's a good thing," Kelly said. "The city smells better without a bunch of drunken kids using every doorway as a toilet."
Sporadic violence has marred the celebration. At least nine people had been wounded by gunshots, six of them on Saturday. Police said 1,100 officers, state troopers and National Guardsmen have been positioned along parade routes since the season began.
Still, most partygoers were undeterred. The smell of charcoal and sizzling meat accompanied the sounds of people urging float riders to "throw me something," and band music played as cooks prepared everything from burgers to crawfish along the parade route.
"We had beer for breakfast, but we're making it a side dish now," David James said. "You have to pace yourself when you get here at dawn."
Copyright 2018 The Associated Press. All rights reserved. This material may not be published, broadcast, rewritten or redistributed. We strive to uphold our values for every story published.