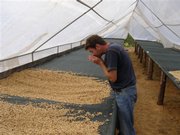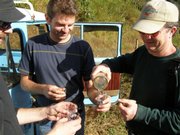 Tim O'Brien is growing his form of social change from the ground up.
The Kansas City, Mo., native and graduate of Kansas University, is using the coffee plant to change lives in the Costa Rican hamlet of San MartÃ-n.
O'Brien, 37, gave up his $100,000-per-year job as a diplomat to run a coffee mill and bring fair wages and pride to the coffee farms of San MartÃ-n - a town so small it's never been mapped.
"We're just a scrappy, small operation compared to some of these bigger coffee mills here. It's a revolution of micromilling - single-origin coffees," O'Brien says. "We're pushing a huge change down here to allow small farmers access to high-end markets."
The boutique coffee processed at his mill, called CafetÃ-n, is making its push into the United States after a successful year in Japan in 2007. If everything falls into place, it could be available in Lawrence by this summer.
Costa Rican coffee
When he was a student at KU in the early 1990s, O'Brien drank coffee for the same reasons many college kids sip mug after mug: for caffeine. An environmental sciences major, he would drink the black stuff to stay awake - not really enjoying it so much as using it as a study tool.
"But I don't think I ever knew what a good cup of coffee was until I moved to Costa Rica," he says.
That move happened after he graduated in 1993. While still on campus, he was recruited for the Peace Corps, and though he knew little Spanish, he was sent into the central highlands of Costa Rica, to the town where he would eventually return, San MartÃ-n.
Making $200 a month, hiking 45 minutes to call home and learning the language and the culture as he went, O'Brien stayed two years in the town of about 150. And everywhere he went was coffee - up the steep slopes, in backyards and in the cups of the people.
Home and away
When O'Brien's Peace Corps days were over, he moved back to the United States and got his master's degree from Johns Hopkins University. Then, he took a job with the U.S. Department of Agriculture and was sent back to Costa Rica to work as a diplomat.
There, he reconnected with his old friends and found them still struggling, trying to live on wages from the large coffee mills. He made it his off-hours duty to help them.
"I started running around to find people to tell me what kind of quality of coffee this was," he says. "Was this something special? Are we average? And that's how I got hooked with Danny O'Neill and The Roasterie."
On a trip home to Kansas City, O'Brien visited O'Neill, founder of local coffee roaster and distributor The Roasterie, with some green coffee and a list of questions. O'Neill told O'Brien his coffee was good - so O'Brien bought a processing machine and took it back to Costa Rica.
Origins of CafetÃ-n
While still working his government job, O'Brien took up the task of creating his micromill. He bought a coffee farm and began stealing his friends away from the country's low-paying megamills.
"Even though my friends had better-quality coffee, they were never paid for that quality until I came and started this business," he says. "I'm paying them for what their coffee is actually worth."
And the going rate is pretty good. After processing in O'Brien's mill, CafetÃ-n, which includes beans from 25 producers, is getting high-end prices for its crop of 80,000 pounds of green coffee. In Japan, where CafetÃ-n now does 80 percent of its business, the rate offered by roasters is the equivalent of $18.50 per pound of coffee.
Why Japan? The Japanese pay more for good coffee. In Portland, Ore., his coffee is sold by roasters for $11.50 per 12 ounces.
"What I'm doing is I've created an origin coffee, which is essentially from one small valley," he says. "We're considered a boutique coffee, which is above gourmet and specialty. The quality is superior to anything else around us."
And that quality is getting noticed. CafetÃ-n has posted high marks in competitions such as the Cup of Excellence. The exposure helped land deals with small roasters in the United States, including recently Parisi Artisan Roasted in Kansas City, Mo.
Special field trip
CafetÃ-n also has captured the attention of local restaurateurs Chuck Magerl (Free State Brewing Co.) and Thom Leonard (Wheatfields). They met O'Brien last month during a trip to Costa Rica sponsored by The Roasterie, which is in talks to sell CafetÃ-n at its cafe and to its customers.
"It wasn't until we got to the farm and were introducing ourselves that he said, 'Oh, Free State Brewery! I'm a KU grad. I spent time at the brewery. I'm missing some cheddar ale soup right now,'" Magerl says.
He told them his story and they were shocked by not only O'Brien's success at growing his business, but how.
"Tim is getting into about as specialty a niche as I can imagine," Magerl says. "It's just so amazing to think that this guy tucked way up in the hills of Costa Rica probably has a reputation in Japan, (which) is just a culture so different from where he's waking up and doing his work."
Seeing change
And because of his coffee mill, O'Brien knows he's waking up in a better place. He quit his job a year ago to work full-time on CafetÃ-n and says it has helped him effect more change than he did before as a diplomat.
"Now I feel like I'm changing things on the ground," he says. "We're really making a difference."
An example of change? Thanks to CafetÃ-n, San Martin's children are getting their first playground.
"This is not what I set out to do. It was just by total accident," O'Brien says. "I really enjoy it. I'm not making the money I was doing other things, but I'm working outside every day and helping people and really enjoying it."
Copyright 2018 The Lawrence Journal-World. All rights reserved. This material may not be published, broadcast, rewritten or redistributed. We strive to uphold our values for every story published.