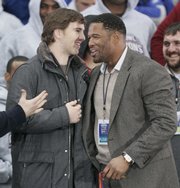 New York — On a day for jumping and whooping it up, Michael Strahan showed the throngs of jubilant fans just how it's done, New York Giants style.
The star defensive end fires up his team - a wildly improbable NFL champion - with a leap that he calls "stomping you out." And with that, Strahan jumped skyward on the podium at a Super Bowl rally Tuesday, lifting his knees to his shoulders.
"We would like to extend this to every other team in the NFL and particularly for the last team we defeated, the New England Patriots," he said, his teammates standing behind him. "Because you know what we did to you? We stomped you out!"
Two days after the Giants won the title with a 17-14 victory that ended the New England Patriots' perfect season, fans gathered at City Hall Park after a ticker-tape parade to watch their team get the keys to the city.
And those fans, umbrellas raised in a light rain, made a plea to Strahan, who is contemplating retirement. "One more year!" came the chant as soon as he got to the podium.
"One more year?" Strahan said. "We'll see."
Eli Manning, the MVP of the Super Bowl, said the team was proud to "bring the championship back to New York City."
"It's been an unbelievable journey," he said.
Manning and Strahan were joined by the entire Giants organization in a parade through the "Canyon of Heroes" before hundreds of thousands of fans, many decked out in Giants blue, to celebrate one of the city's great sports triumphs.
After the Manhattan lovefest, the team took buses back to New Jersey, where it was met by a crowd of more than 20,000 fans at Giants Stadium. The crowd saved its loudest cheers for coach Tom Coughlin, who emerged from a tunnel holding aloft the Super Bowl trophy.
"You believed in us and this group of young men believed in themselves," he said. "And that's why we're standing here today."
The crowd burst into cheers when wide receiver David Tyree was introduced and pressed a football to his head, simulating his astonishing catch in the final minutes of Sunday's game.
Earlier, across the Hudson River, the Giants rode in floats and many players carried video cameras to record the moment. A huge cheer went up when Manning joined Strahan at the front of a float. The float also carried Mayor Michael Bloomberg as well as the Vince Lombardi Trophy, which was cradled like a baby in Strahan's massive arms.
Copyright 2018 The Lawrence Journal-World. All rights reserved. This material may not be published, broadcast, rewritten or redistributed. We strive to uphold our values for every story published.