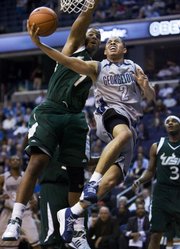 Washington — The worst team in the Big East was leading the conference's best team by nine points late the first half. South Florida was shooting 77 percent. One player, DuJuan Summers, had accounted for four of Georgetown's meager tally of five baskets.
Enough of that craziness. The Bulls missed their next nine shots. The Hoyas went on a 12-0 run to take the lead for good. Summers finished with a career-high 24 points, and No. 6 Georgetown did just enough in the second half Tuesday night to hold on for a 63-53 victory.
Summers made eight of 13 field goals, including 4-of-8 three-pointers, and had nine rebounds to lead the Hoyas (19-2, 9-1) to their sixth straight win and 18th in a row at home. Roy Hibbert, who had his hands full with Kentrell Gransberry, missed his first three shots but finished with 13 points on 5-for-9 shooting and eight rebounds.
As for the rest of the team? They shot 9-for-34, and no one had more than one field goal until Jessie Sapp's three-pointer with 11 minutes to play. Overall, the Hoyas shot just 39 percent, the worst performance of the season for a team that entered the game leading the Big East with a 50.3 percent average.
Dominique Jones scored 15 points, and Gransberry had 13 points and nine rebounds for the Bulls (10-13, 1-9), who have lost nine straight.
No. 7 Tennessee 104, Florida 82
Knoxville, Tenn. - Chris Lofton made six three-pointers in scoring 26 points. Lofton, with the help of 23 points each from Tyler Smith and JaJuan Smith and 10 points from Duke Crews, led the Vols (20-2, 7-1 Southeastern Conference) to their best start in history.
No. 10 Butler 71, Valparaiso 68
Valparaiso, Ind. - Pete Campbell hit a three-pointer with 15 seconds left to give 10th-ranked Butler its first lead, and Willie Veazley added a free throw with seven seconds left.
No. 15 Drake 73, Illinois State 70
Normal, Ill. - Josh Young scored all but one of his 18 points in the second half, and Drake rallied to win its 20th straight.
No. 24 Purdue 67, Penn State 53
West Lafayette, Ind. - Robbie Hummel scored 17 points, and E'Twaun Moore added 16 to help Purdue beat Penn State. Marcus Green scored 11 of his 14 points in the second half for the Boilermakers.
Copyright 2018 The Associated Press. All rights reserved. This material may not be published, broadcast, rewritten or redistributed. We strive to uphold our values for every story published.