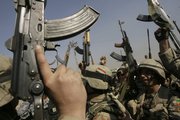 Washington — Defense Secretary Robert Gates says a realistic estimate of next year's war costs is almost impossible to discern, in part because he doesn't know how many troops will be in Iraq this fall.
The assertion, to be made on Capitol Hill today, will no doubt raise the ire of congressional Democrats, who contend the Bush administration is trying to keep these costs from the American public.
"While I would like to be in a position to give you a realistic estimate of what the department will need for (fiscal year) 2009 supplemental funds, I simply cannot at this point," according to Gates' prepared remarks for a budget hearing.
"There are too many significant variables in play," he added.
Gates is scheduled to testify before the House and Senate armed services committees. Also testifying will be Adm. Michael Mullen, chairman of the Joint Chiefs of Staff. Their written testimony was obtained in advance by The Associated Press.
Mullen will tell the panels that violence in Iraq has "substantially decreased."
"The surge of U.S. forces to Iraq, a well executed counterinsurgency strategy and an Iraqi population increasingly weary of violence, and willing to do something about it, have all combined to improve security conditions throughout much of the country," Mullen states in his testimony.
At the same time, Afghanistan is facing "a growing insurgency, increasing violence and a burgeoning drug trade fueled by widespread poppy cultivation," he states.
Mullen adds that the military cannot sustain its current pace of operations. Army soldiers should be limited to yearlong combat tours, instead of 15-month deployments, and eventually be given two years at home between deployments, instead of just one, he said. Marines should move to 14 months at home following seven-month deployments, he said.
In their testimony, Gates and Mullen will be asking Congress to support a $588.3 billion request for defense spending in 2009. Of that amount, only $70 billion would cover war costs - an amount the Defense Department says would probably only last until the next president is sworn in.
If the current rate of war spending is a guide, the additional request for 2009 is likely to exceed $100 billion.
Democrats said in advance of the hearing that they were disappointed the Pentagon didn't include those war costs in next year's budget.
"Without full transparency after more than six years of war in Afghanistan and Iraq, it is impossible for the American people to make a full accounting of our financial commitment there," said Sen. Jim Webb, D-Va., a member of the Senate Armed Services Committee.
Sen. Ben Nelson, D-Neb., told Gates in a letter Tuesday that the practice "hides the true costs of these conflicts from the American people and does not give an accurate projection of coming deficits."
In his testimony, Gates says two primary questions must be answered before the military can calculate next year's war costs: Will ground commanders this year recommend keeping more or fewer troops in Iraq? And will Congress approve the balance of the military's 2008 war spending request?
President Bush requested about $189 billion to cover the military's 2008 war costs. Congress has approved $86.7 billion, leaving it about $102.5 billion short.
Copyright 2018 The Associated Press. All rights reserved. This material may not be published, broadcast, rewritten or redistributed. We strive to uphold our values for every story published.