2008 Kansas Democratic Caucus
Photo Gallery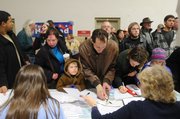 National Guard Armory
Photo Gallery
Douglas County 4H Fairgrounds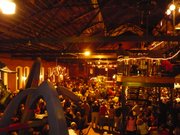 Steady rain and blowing winds did not deter 4,872 Douglas County Democrats from caucusing Tuesday as the three sites across Lawrence saw large crowds and overwhelming support for Barack Obama.
Statewide, Obama was set to pick up a majority of the 32 delegates at stake, but the state party leaders had not released that calculation late Tuesday night with a few caucus sites yet to report results.
Obama won 80 percent of the Lawrence vote, compared with 19 percent for Clinton. With 90 percent of Kansas results in, Obama led Clinton 71 percent to 26 percent.
In Lawrence, men and women of all ages stood in long lines outdoors in a turnout that shocked even Democratic organizers, as 1,250 voters registered as Democrats at one site alone.
"They tried to have control, but it was chaotic - due to the weather and the darkness and the crowd," said Gini Wigington, who waited in the rain for at least 40 minutes before entering the caucus at Abe & Jake's Landing, 8 E. Sixth St.
The line outside Abe & Jake's stretched across the parking lot as people waited in the rain and wind. With more than 1,400 participants and a capacity limit of 720 in Abe & Jake's, organizers had to use a backup site, Liberty Hall.
At the largest caucus in Lawrence, the Douglas County 4-H Fairgrounds, 1930 Harper St., hundreds of voters waited more than an hour in a line that snaked outside into the muddy parking lot.
"It's one of the most significant elections in my lifetime. I've been following it closely," said Emi Erekosima, an Obama supporter and Kansas University junior from Rose Hill.
She stood in the dark and rain waiting to go inside and stand in line some more during the caucus.
But organizers said the overflow crowds were a good problem to have.
"I think people here are so hungry for a change in direction that they can taste it, and that's what motivates all the Democrats to show up here tonight," said Douglas County Commissioner Charles Jones, chairman of the fairgrounds caucus.
Organizers said because it was the first significant caucus in Kansas in more than a decade, there was no way for the process to run as a "well-oiled machine," Jones said.
The high turnout also complicated matters, as rules required participants to be in line by 7 p.m. at most sites and 7:30 p.m. at the fairgrounds. Parking and traffic were also a huge concern both downtown and at the fairgrounds.
Glenn Foster was about one minute too late. He searched frantically for a parking spot as he came from work, but he was turned away along with about 30 other people at the fairgrounds site, said Dawn Shew, the check-in coordinator.
"I got here in time, but I was just trying to find a place to park," Foster said.
Gina Westergard, a professor and administrator at KU's Design Department, turned around while in a traffic jam on her way to the fairgrounds at 6:45 p.m. because she thought she wouldn't make it. She was unaware that organizers had moved the deadline back a half hour earlier in the day.
"I wanted my vote to count," said Westergard, adding that she votes in every election. "It is important that everyone gets a chance to vote. It was frustrating, and not planned well."
Because state legislators did not approve funding for a primary election, the state parties put on the caucuses - some passing envelopes through the caucus crowds to collect money to help pay for the events. County party leaders told frustrated voters to lobby legislators to fund a primary election for 2012.
Organizers at the fairgrounds said that overall, participants were in good spirits and enthusiastic, although they acknowledged the registration process moved slowly. Volunteers helped register 1,250 Democratic voters just for the caucus. Shew said 75 percent of those people were KU students who were likely registered somewhere else.
"I just want to make sure I can do something to make sure the president I want to vote for is on the ballot," said Lance White, a KU graduate student from St. Louis.
With a local campaign presence for several months and a huge support generally in university towns, supporters of the Illinois senator said it was no surprise he appealed so widely here.
Obama also has family ties to Kansas and the endorsement of Democratic Gov. Kathleen Sebelius and other elected officials.
"I just think his message is very appealing to me. It's great to see so many young people involved," MaryNell Gleeson said.
At the fairgrounds site, volunteers doled out Obama stickers like hot cakes, and his supporters dominated the caucus floor.
"I like his stance on health care and his lack of tie-ins to big corporations," said Melinda Gaddy, a KU graduate student.
At the fairgrounds, 385 Clinton supporters huddled in a corner, enough to pick up two state delegates.
At one point in the night, Joseph Lomakin, a KU student and Clinton supporter, sat alone in a sparse section of the Clinton side at Abe and Jake's.
"I feel like it's my personal responsibility to resist temptation to vote for image and to vote based on how other people are voting, but to decide for myself. That's why I'm still sitting here," he said.
More than 800 people packed Robinson Middle School in Topeka, where Sebelius urged the crowd to support Obama.
"This race is between the past and the future," Sebelius said. "There is no better candidate for the future than Barack Obama."
But Kansas Secretary of Revenue Joan Wagnon spoke in favor of Clinton. Wagnon noted that many caucus-goers that she spoke with told her it was difficult to pick between the two.
But Wagnon said that whoever won the nomination "we are all going to be together" for the general election in November. With 90 percent of statewide results in at 10:30 p.m., Obama had more votes than Clinton at 31 of the 32 caucus sites that had reported.
Reports came in from across the state of overflowing crowds showing up for caucuses.
Sebelius said that a Democratic caucus in Overland Park had to be moved into the town square because of the size of the crowd.
"I think people have felt left out for years," in the nominating process, said Kansas Attorney General Stephen Six, a Lawrence resident, as he waited in line outside the fairgrounds.
Six supported Obama.
Although it was a new process for Kansas Democrats, things operated smoothly once they got participants inside and ready to be counted.
"I thought it was interesting to see how it worked out," said Meg Gabelman, a Clinton supporter. "It flowed pretty well."
Copyright 2018 The Lawrence Journal-World. All rights reserved. This material may not be published, broadcast, rewritten or redistributed. We strive to uphold our values for every story published.