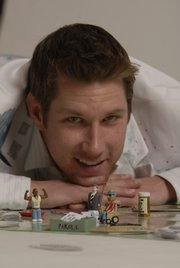 Sometimes in Monopoly you want to be the thimble. Or maybe the Scottie dog. Or the top hat.
Don't Drop the Soap offers you a chance to be represented on its game board as the Glock. Or Sal "The Butcher."
Yes, you can trade in your smokes for a chance at parole while traveling around the game board.
Fun? Yes.
Traditional? No.
P.C.? Er, it's all fun and games, says creator John Sebelius, who sells the game on his Gilliusinc.com site and at Hobbs Inc., 700 Mass.
"You basically work your way through different locations in prison in attempt to get paroled," the Lawrence resident says. "By the time the game is over, you're good, you've had a good laugh, and you can move on."
Since the game's release less than two weeks ago, Sebelius, 23, has been inundated with shipping requests from Canada and even Great Britain on Gilliusinc.com. And Hobbs owner Mark Swanson says he has sent games to customers as far away as Florida and California.
So why the hype?
Swanson sums it up simply: "The matter of fact is that the game is pretty edgy, and it's also that his mother is the governor."
Yes, John Sebelius is one of those Sebeliuses. Mom Kathleen is the governor, and dad is Magistrate Judge K. Gary Sebelius. And their son's first major production fresh out of Rhode Island School of Design happens to be a prison-themed board game.
Awkward when visiting the governor's mansion? Nah.
"I haven't really ever asked them for their real response to the game, they just support me and what I'm doing," he says. "They just support their son."
Senior project on steroids
Most times a college senior project doesn't really go anywhere except on a resume for a round of post-graduation job interviews. It's just part of the game of making one look more employable than the next kid with the same degree from the same school with the same level of experience.
Well, Sebelius did make his class project a game - and is getting the kind of attention most recent graduates schlepping coffee for their bosses can only dream about.
"Basically, we had two weeks to create a board game of our choice," he says. "I hadn't seen any board games out that were prison-themed, so I decided to try it."
After his graduation from college in 2006, Sebelius made a stopover in Chicago before heading to Lawrence, deciding not to go the route of nearly everyone else in his class - from Rhode Island to New York, one-way.
"I definitely made it my intention to grow my company and get it started in the Midwest," he says. "Growth from kind of the inside out."
Once settled in Lawrence, Sebelius began his relationship with Hobbs, selling his Gillius Inc.-brand shirts at the shop while finishing production on the game. The clothing is about as edgy as the game - dress shirts and blazers made unique with hand-done drawings scribbled on the fabric.
"Most of the stuff is kind of funky men's dress clothing," he says. "I went around and went to thrift stores and bought up a lot of clothes that people have discarded, and I redesigned them."
Birth of Gillius
Don't Drop the Soap took more than a year to get ready for sale, with Sebelius doing nearly everything except running the machinery that popped out each of the 3,000 copies of the game that have been produced.
He pitched the idea to a toy producer. He went to the bank, got a loan. He went to lawyers, got all the trademarks set up. In between, he drew 3-D models of what he wanted the game pieces to look like and fine-tuned the product.
"I basically took it all on myself just so I could cut costs, because I obviously didn't have an excess of money," he says.
He also did side work to keep Gillius going until Don't Drop the Soap hit the shelves and the Internet.
"All my profits have dropped back into the company to pay off the loan, and I've just been doing freelance design and paintings and whatnot to stay afloat," he says.
Now, though, Gillius Inc. is up and running with bona fide hit on its hands, even though Sebelius says he would have just preferred to have broken even with Don't Drop the Soap.
"I'd much rather this be a smaller hit and sell well - kind of more of a break-even thing," he says. "I just wanted to get this game made from a school project that was kind of fun to an actual real product that could be sold in stores."
Indeed, he says that he probably won't venture again into the gaming arena, preferring to focus on his hand-drawn, redesigned clothing pieces.
"I'd definitely say the clothing line is the future and the focus of the company," he says. "I'm pretty sure this is the last game I'm going to make."
Other than the task of growing a brand-new company, Sebelius' plans are simple: "Just trying to keep a low profile and not get my mom in trouble."
Copyright 2018 The Lawrence Journal-World. All rights reserved. This material may not be published, broadcast, rewritten or redistributed. We strive to uphold our values for every story published.