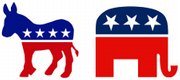 Full coverage of the 2008 Kansas Caucuses, including interactive map of polling places and a Q&A about the process.
If you've been wanting to find out how a caucus works, it's almost time.
Kansas Democrats will participate in Super Tuesday this week when more than 20 other states have scheduled primaries or caucuses to nominate candidates for president.
State party leaders are expecting such a big turnout, especially in the Lawrence area, that they have changed one caucus site from Liberty Hall, 642 Mass., to the Douglas County 4-H Fairgrounds Community Building, 1930 Harper St. Liberty Hall had parking and other space concerns.
Jenny Davidson, a Kansas Democratic Party spokeswoman, said party leaders expect a strong turnout across the state because Sen. Barack Obama, of Illinois, drew 2,500 people at an El Dorado event last week. At the last caucus in 2004, only 1,300 total Democrats participated, she said.
"So, we're expecting a huge turnout (Tuesday)," Davidson said.
Here's more information about what Democrats need to know to participate:
¢ If your state senator is Roger Pine, go to the National Guard's Metcalf Memorial Armory, 200 Iowa.
If Marci Francisco represents you in the Kansas Senate, it depends on what congressional district you live in. Those who live in U.S. Rep. Nancy Boyda's district should report to Abe & Jake's Landing, 8 E. Sixth St. Residents in U.S. Rep. Dennis Moore's district need to go to the fairgrounds, 1930 Harper St.
¢ Voters need to be in line by 7 p.m. to ensure they can participate, and they can change their party affiliation at the door to Democrat.
¢ Kansas Democrats can check which caucus site they need to attend at www.ksdp.org/supertuesday.
Kansas Republicans will have their caucuses at 10 a.m. Saturday. The Douglas County site is at South Junior High School, 2734 La. Voters must be registered Republicans.
Copyright 2018 The Lawrence Journal-World. All rights reserved. This material may not be published, broadcast, rewritten or redistributed. We strive to uphold our values for every story published.