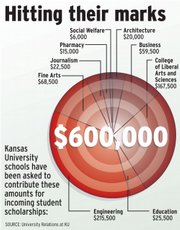 Kansas University will offer bigger scholarships to high-achieving prospective freshmen next fall in hopes of attracting more of them.
The initiative, led by KU's provost office, will pour $2.5 million into enhancing present entrance scholarships for incoming freshmen.
"We're not focused on adding new scholarships as much as we are just improving the overall package," said Marlesa Roney, vice provost for student success.
She calls it an opportunity to see whether bigger scholarship amounts will attract more high school graduates, both in state and out of state.
"The university in your own backyard is usually going to be the backup school, if you will, the safety school," she said. "So part of the challenge is always helping people understand the excellence that exists right here, in the state of Kansas."
Shifting priorities
As the competition for freshmen continues, universities often consider bigger scholarship packages as incentives.
One example is Wichita State University's Sedgwick County Scholarship, for high school seniors and transfer students who are Sedgwick County residents.
Christine Schneikart-Luebbe, dean of enrollment services at Wichita State, said the percentage of Sedgwick County freshmen had increased 4.4 percent from 2006 to 2007.
She credits the scholarships, financed by the county's mill levy, as part of the reason for the increase.
KU's initiative was conducted independently of Wichita State's example, Roney said. The Endowment Association and KU will pay for the enhanced scholarship packages, not the county.
Furthermore, Roney said, the initiative to increase scholarship packages had been discussed since 2003, when she joined KU as vice provost for student success.
The initiative will place greater emphasis on KU's recruitment policies for prospective students, said Joseph Steinmetz, dean of the College of Liberal Arts and Sciences.
"There seems to be a lot of scholarship dollars that are awarded to juniors and seniors, and less to incoming freshmen," he said. "That's relative to other schools in the region, especially if you compare incoming packages that are available for scholarships for Kansas (in)state students or for Missouri students."
As a result, the provost's office was interested in doing a better job on the freshman recruitment side, he said.
KU spokeswoman Lynn Bretz said the university does not track freshman scholarships given by four of KU's academic schools in addition to its office of admissions and scholarships.
She also said KU disburses a high percentage of four-year awards, which complicate the figures for a freshmen-only number.
Pat Bosco, associate vice president and dean of student life at Kansas State University, said the university disbursed $5.5 million in freshman general scholarships this year.
Fierce competition
The final goal, Steinmetz said, was to build multiyear scholarship packages.
KU will measure the initiative's success by tracking how many freshmen accept the enhanced scholarship packages, compared with previous years.
"It's pretty fierce, the competition to attract the best students," Steinmetz said.
Engineering Dean Stuart Bell knows firsthand the competition for high-achieving freshmen.
Texas A&M;, the University of Texas, the University of Oklahoma and the University of Missouri make up the school's greatest rivals among the Big 12.
That doesn't include national competitors such as the Massachusetts Institute of Technology, Stanford and Cal Tech.
Anthony Frei, KU freshman and Lawrence High School graduate, initially applied to all three national universities but was turned down.
KU, however, offered him $10,000 a year based on his record as a national merit scholar.
That money, along with a $5,000 scholarship from the engineering school, helped him choose KU over the Missouri University of Science and Technology - formerly the University of Missouri, Rolla.
"Based on the scholarship and everything, it turned out to be the clear best choice," he said.
Factors other than scholarships, however, can persuade native Kansans to venture outside the border.
Baoqing Zhou, another LHS graduate and 2007 national merit scholar, is studying chemistry at Cornell University.
She said she chose Cornell - which meant $47,000 in annual tuition - even though she could have received a full-tuition scholarship package from KU. Its undergraduate state residents pay approximately $5,500 for tuition, and undergraduate nonresidents pay about $14,500.
"My parents and I, as immigrants, view college education as a very, very important starting point of one's career/life," Zhou wrote in an e-mail from Cornell. "Because of this viewpoint cultivated by our Chinese background/culture, we would rather go into debt for a university that promises a better (though by how much I'm not quite sure) education and wider options after graduation."
Zhou also said that East and West coast colleges offered more opportunities for undergraduates.
The KU administration, however, doesn't agree with that assessment.
"You don't have to leave the state to be able to get a world-class education," Roney said. "And you don't need to spend $40,000 a year to get a world-class education either."
Copyright 2018 The Lawrence Journal-World. All rights reserved. This material may not be published, broadcast, rewritten or redistributed. We strive to uphold our values for every story published.