Photo Gallery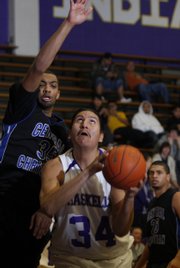 Haskell vs. Central Christian
His name may be Terrance Little Thunder, but there's absolutely nothing diminutive about him. Haskell Indian Nations University's starting men's basketball center is listed at 6-foot-11 and 300 pounds, and he wants to make sure everyone knows how big he plays.
"Don't let the name fool you, man," Little Thunder said. "I'm far from it."
Saturday evening, the junior-college transfer did a little bit of everything for the Indians, scoring inside, blocking shots, dropping assists and even taking a charge in Haskell's 84-69 victory against Central Christian College.
And he did all of it in just 18 minutes while saddled with foul trouble.
Perhaps an official name change ought to be in the works.
"I think it's more appropriate as Big Thunder," teammate Dominic Clichee said.
Little Thunder, who does go by the nickname "Big Nation," scored 15 points, grabbed seven rebounds and blocked four shots.
He also recorded his first dunk of the season.
"I've been looking for that all year," Little Thunder said. "One of my coaches said if you get a dunk, you get a lobster, and I've never had lobster before."
With four fouls, Little Thunder hit Vince Chavez with a pass on the wing for a three-pointer that gave the Indians a 63-57 lead. On the next possession, Little Thunder found a cutting Paul Atkinson for a lay-up and a foul.
"Obviously, when he's in there, we go to him inside, which opens everything else up," Haskell coach Ted Juneau said. "He's a big part of our team. And the good thing is, I know he's going to get a lot better.
Clichee led the Indians with 17 points, and Chavez added 13. Ben Carrywater scored 11 points and hauled in 10 rebounds. Haskell shot 30-of-60 from the field and forced 26 Tiger turnovers.
And just for the record, Little Thunder said he was only 6-foot-10. That extra inch on the lineup card is meant "for intimidation of other players."
Copyright 2017 The Lawrence Journal-World. All rights reserved. This material may not be published, broadcast, rewritten or redistributed. We strive to uphold our values for every story published.