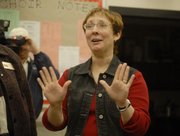 A Lawrence High School vocal teacher received a special surprise Friday.
Cathy Crispino learned during one of her afternoon choir classes that she is the 2008 Kansas Music Educators Association's High School Choral Teacher of the Year. The KMEA is an organization committed to music education and how the study of music is a positive influence in the lives of individuals and society as a whole.
More than 20 of Crispino's friends, colleagues and her husband surprised her during one of her choir classes. Everyone, including her students, gave her a roaring ovation after Jean Ney, president of the KMEA, announced the honor.
Crispino will be presented with a plaque award in three weeks at the annual KMEA Convention in Wichita.
"I am floored by this," Crispino said. "I have had the most wonderful colleagues and the most wonderful students. It gets better every single year because of the kids."
Crispino, originally from Parsons, has taught at Lawrence High School for 11 years and has taught music for more than 20 years in other Kansas schools.
She was nominated by colleagues across the state. In December, Crispino was honored as the Northeast Kansas Music Educator Association's High School Choir Teacher of the Year.
"It is really breathtaking to look up and see not only these wonderful kids who I love so much, and they work so hard every day, do anything I ask, and we just really love making music together," she said. "And then to look at the top of the room and see my colleagues from now and also from the past, it really means a lot to me."
Ney said the award is the most prestigious in the KMEA.
"When I say it's a real honor, it's a real honor," she said. "She takes students with a whole variety of talents and makes each the best vocalist they can be."
One of Crispino's students, Emily Lamb, a senior, said she was excited for her teacher to be recognized and to see her surprised when so many friends walked in her room.
"She's just a sweetheart," Lamb said. "I know she puts a lot of effort into the choir."
Crispino said music education plays an essential role in public schools.
"I think that choral music is an example of how we should live together as a community," she said. "In the choir room we have a chance to create something beautiful together, and it's not just about individual achievement, although we have a lot of individuals who shine and have a chance to shine, but it's also about finding a way to come together and to put all of our talents into one pool. I think they are life lessons that I have learned and I continue to learn every day."
Copyright 2018 The Lawrence Journal-World. All rights reserved. This material may not be published, broadcast, rewritten or redistributed. We strive to uphold our values for every story published.