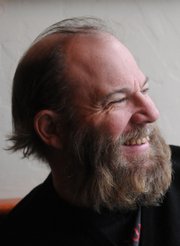 Bobke live
Bob "Bobke" Roll will speak at a gathering at 7 tonight at Sunflower Outdoor & Bike, 802 Massachusetts Street.
Admission is free. Owner Dan Hughes expects close to 200 fans will attend.
Bob Roll settles into a booth at a downtown restaurant, Bloody Mary in hand.
Nobody pays him much mind.
Sporting a wild beard, Roll looks a bit unkempt, but cut him some slack. He just arrived from his Durango, Colo., home and hasn't had much time to freshen up.
Roll - television analyst for the Versus (formerly Outdoor Life) Network's cycling coverage since 2001 - is in town to speak tonight at a gathering at Sunflower Outdoor & Bike, where he'll be treated like royalty.
In the general public, though, Roll basks in relative anonymity.
Nobody asks for an autograph. Nobody asks to have a picture snapped with him. Nobody gawks or points.
"If you go to a cycling event, it's like, 'Hey, Bob Roll, nice to meet you. Good job.'" Roll said. "Otherwise, thankfully, you look at some of the things celebrities go through, you wouldn't wish that on your own worst enemy. People hiding in bushes. It'd be horrible. I'd be like the most vilified person in America if I had to face that scrutiny. People listening to your phone calls, taking your picture when you're going to the bathroom. It's crazy. We don't have anything like that. Believe me, that's a good thing."
¢¢¢
American cycling is immune to a lot of the things that have totally destroyed European cycling because it's just under the radar so that you don't have Congressional hearings so far about people missing their anti-doping appointments. Baseball, believe me, is the tip of the iceberg in American sports. That's probably the cleanest of the American sports. They don't even want to start looking at the other sports. They do not want to start looking at football and hockey and basketball, tennis, golf, Formula One, NASCAR. As time goes on, cycling is going to be like the choir boys of professional sports.
¢¢¢
Who is Bob Roll?
Roll was a cyclist first, competing for the 7-Eleven and Motorola cycling teams before joining Greg LeMond's Z team in 1992, then moving on to become a professional mountain biker.
Roll competed in three Tours de France, three Giros d'Italia, seven Paris-Roubaix races.
He trained with Lance Armstrong when Armstrong was making his comeback from cancer.
Roll also authored a handful of books, mostly tales from his days as a professional racer.
And, in 2001, Roll became a TV guy, adding color to broadcasts of the Tour de France.
Roll provides color commentary around the observations made by a couple of Brits - Phil Liggett and Paul Sherwen - painting a decidedly American view of cycling.
¢¢¢
I don't think it's absolutely essential they have an American voice. I do think it helps, whoever that voice might be. I think it helps not the 17,000 fans what will watch every moment, but the other 20 million fans that are curious. For them to go through the whole month without an American voice, it might kind of not be a good tactic for the network. It doesn't have to be me. It could be a lot of guys. There are very few guys who have done the race and experienced it perhaps that can make the vernacular palpable for American viewers. I'm sure a lot of my ex-teammates could do it. They happened to be busy with jobs at the time. I was the only chronically unemployed member of the first generation. I didn't try out for it. I didn't go to school, period, let alone journalism. I just happened to be available at the time.
¢¢¢
Roll certainly doesn't cast an air of stereotypical TV throat.
But what Roll's on-air persona lacks in polish, it makes up in candor.
An article in "Esquire" magazine described Roll as the "worst color commentator on Earth and the best thing to happen to the Tour de France since Lance Armstrong."
It goes on to describe him as "positively terrible," lacking a filter and rife with "more physical tics than a bloodhound lost in the woods."
If anything, the gap-toothed Bobke seems to provide proof of his view of professional cyclists.
"Very few cyclists crave attention," he says. "You'll find most bike racers are pretty cerebral. They're really socially pretty stunted. They try to really hide and keep away from the spotlight. It's tough to have that glare and perform on a bicycle. You need an almost monk-like environment to perform well."
¢¢¢
Cycling in the states at the highest level attracts the well-off, educated, upper-middle-class person. Cycling in Europe is more like hockey or boxing, even. People from the underprivileged classes are the main part. The upper classes don't even like to be associated with cycling. They think they're like gangster-rappers. They do not want to have anything to do with cyclists.
¢¢¢
It is suggested there are more than the obvious similarities between Roll and his college basketball counterpart, Dick Vitale.
Both are, um, outspoken.
Both have keen, insider knowledge of their respective sports.
Neither is afraid to share his opinion.
And both have cult-like, love-him-or-hate-him followings.
A marked difference, however, is that much of Vitale - sidelined so far this season because of lesions on his vocal cords - seems to be shtick. It's hard to picture him ordering A SIDE OF FRIES WITH THAT, BAB-EEE.
With Roll, you get the feeling what you see is what you get, on-air of off. And what you get is a character. His book tales of the life of a professional cyclists are uproarious at times, even to noncyclists, with equal doses scatological and cerebral humor, all from a man who once convinced the media he grew up in a teepee.
You also get the feeling, when in his environment, he doesn't buy his own beer very often.
¢¢¢
We'll always have really devoted, passionate fans because the sport is so dynamic. It's so gratifying to people who have become accustomed to American sports that, honestly, are pretty boring. They get into the Tour and see how dynamic it is, the athletes involved, and they become fanatical, really devoted to it. People who aren't interested in any sports love the Tour. It's unique. There's nothing else like it in professional sports. It will continue to grow slowly without an American champion. It will continue to grow exponentially if we have a guy in the yellow jersey going into the mountains.
¢¢¢
More than anything, Roll is a champion of cycling in all its forms.
"It's clean and, relatively speaking, safe," he said. "The good it does to the environment and people's lives health-wise is staggering, and even in spite of the best efforts of some nefarious characters, cycling will continue to grow."
It therefore seemed natural that Sunflower Outdoor&Bike; owner Dan Hughes would want to bring Roll to town.
The two had crossed paths a few times over the years at trade shows and big domestic cycling events.
When Hughes first inquired about booking Bobke, he contacted Roll's agent and found the fee too steep. Bobke was back-burnered.
The two bumped into each other recently and Hughes mentioned he was saving up to pay Roll's booking fee. Roll explained he no longer was with that agent and told Hughes to e-mail him to set up a visit.
Thus tonight's event, which begins at 7 p.m. at Sunflower and is free, was born.
Roll used to make 30-50 such appearances yearly, but since has cut back to five to 10 a year.
"You have to have a good feeling for the people you're going to visit," Roll said. "And Dan's such a good guy, it was no problem."
¢¢¢
We have a really strong rhetoric involved with freedom in the United States. If you ride your bicycle down any road in America during commute hour, you will be subject to so much abuse, so many dangerous situations. I challenge any political candidate to ride down any street in America during rush hour, especially those that don't have any provisions for bicycles. : You are literally taking your life into your hands to be free of the gas pump. It's an interesting juxtaposition of what freedom is and what the rhetoric of freedom is. I've been in towns where you breeze across town and nothing ever happens. I've been in towns where you can't even ride one block without being assaulted by some idiot who thinks you're an affront to their pursuit of happiness. America's an interesting place. A lot of Americans will see a cyclist and just believe you're the Antichrist for no reason, and they will try to run you over or try to come so close to you that it will scare you away from riding bikes. That's a huge problem that's unique to this country. That would never happen anywhere else in the world. Not China, not the most brutal dictatorial regime on Earth. It would never happen to you in Italy or Denmark or Switzerland or England or France or Spain or Russia or Vietnam or India or Afghanistan. : This country has a long way to go in terms of tolerance for cyclists. The vitriol of motorists never ceases to amaze me.
Copyright 2018 The Lawrence Journal-World. All rights reserved. This material may not be published, broadcast, rewritten or redistributed. We strive to uphold our values for every story published.