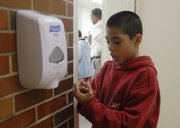 When their hands feel icky, Lawrence students don't have to make a trip to a sink any more - at least not every time.
Most schools have installed dispensers of alcohol-based hand gel in an effort to curb the spread of germs.
"I don't think anyone has said that this replaces soap and water," said Dan Karasek, a Prairie Park School fifth-grade teacher. "It's hopefully just making keeping your hands clean a little more convenient."
By the end of the year, classrooms at all schools will be equipped with either electronic no-touch dispensers or pump bottles. A district council on wellness adopted the recommendation.
"Everything that goes along with winter, by using more hand washing and having the gel accessible, it will cut down on all those germs," said Sonja Gaumer, the district's health services coordinator.
Having dispensers in hallways and outside cafeterias also allows schools to remind students about the importance of good hygiene, she said.
David Williams, Prairie Park's principal, said each school was allowed to set up the dispensers differently. He has requested pump bottles for classrooms instead of the electronic dispensers to help teachers dispense the gel quickly without disrupting class.
Michele Haider-Markel, another Prairie Park fifth-grade teacher, said that for about five years she has used the sanitizer gel in her room. Before, either she or parents supplied it.
"Since I've been using it in class, I feel it's cut down a bit on the number of colds that are coming through my room," Haider-Markel said.
The school district received the 650 dispensers for free. It is using $14,000 from its $200,000 custodial supplies budget to pay for the Purell gel, said Tom Bracciano, division director for operations and facility planning.
Bracciano estimates the district will budget $20,000 a year to refill dispensers.
Copyright 2018 The Lawrence Journal-World. All rights reserved. This material may not be published, broadcast, rewritten or redistributed. We strive to uphold our values for every story published.