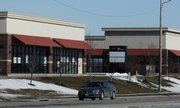 They just sit there - beckoning shoppers from perches in front of two of Lawrence's most popular stores, near one of the city's busiest retail streets, offering a chance for an opportunistic retailer or two or three or four to set up shop, poised to cash in.
Just don't be a tax service. Or a CD shop. Or a cell phone reseller or any of a number of other potential tenants for space in the two buildings near 31st and Iowa streets.
That's because the largely vacant buildings at 2000 and 2040 W. 31st St. are saddled with deed restrictions and zoning rulings that have made marketing the spaces just that much harder to lease during this, an already down time for retail real estate.
"We've had some challenges with the uses allowed there," conceded Pam Peterson, a retail specialist for Block & Co., the Kansas City, Mo.-based firm that is leasing the property.
Among them:
¢ Liberty Tax Service had been lined up to move in by January, but ultimately it was turned away - as an "office" use, it didn't qualify under the commercial zoning that had been approved by the city.
¢ An unnamed retailer of wireless phones had hoped to set up shop, but it was turned away because its products and services would compete with those at Best Buy.
¢ An entreaty from a retailer of compact discs and other entertainment media also was denied, because of no-compete clauses in the use agreement worked out among the center's existing tenants.
But don't look at Doug Dobbins. Nearly three years after he and his business partner secured the first leases signed for part of one of the two buildings, he's plenty frustrated with the relative lack of retail activity.
One tenant, a smaller UPS Store, has followed their lead.
"I signed up for a full shopping area," said Dobbins, co-owner of D3 Sports, which sells licensed Jayhawks, Chiefs and Royals apparel and collectibles. "Empty buildings aren't good for anything."
Getting some more neighbors certainly would help boost sales, he said.
He's answered dozens of questions from potential tenants, and seen dozens more drive up and peek inside the windows of the building next door, which today remains the same 12,000 square feet of unfinished space that has been around since D3 moved in next door back in June 2005.
He just wants some neighbors.
"We have a good average ticket," Dobbins said. "We just don't get enough people through the door. If we get another 10 people in the door, and make another five sales, that doesn't sound like a lot but it adds up over time."
Help may be on the way. Interest is picking up for the space, Peterson said, and she expects to secure a lease for part of the vacant space in the building now occupied in part by D3 and the UPS Store.
"It's a national restaurant chain," she said Thursday, describing it only as a "casual" concept without any other locations in Lawrence. "I should have a lease signed within a week."
Copyright 2018 The Lawrence Journal-World. All rights reserved. This material may not be published, broadcast, rewritten or redistributed. We strive to uphold our values for every story published.