Photo Gallery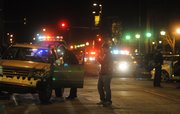 Carjacking ends downtown
Douglas County Courthouse
It was supposed to be a quick stop at Dairy Queen to treat her sweet tooth.
But the 67-year-old longtime Lawrence resident received more than the small vanilla cone she paid for Thursday night in the drive-through of the restaurant at 1835 Mass. She received a terrible scare when her life was threatened.
A man stole Barbara Trouslot's car at gunpoint and crashed it in downtown Lawrence before officers arrested him.
"I just didn't want to get shot," Trouslot said. "I just knew I had to get out of my car."
She wasn't the only victim in a crime spree that included two stolen vehicles and at least four crashed vehicles during a high-speed chase.
Lawrence police arrested Edward James Wise, 23, a transient from Kansas City, Kan., late Thursday and took him to Lawrence Memorial Hospital for an evaluation. He was booked into the Douglas County Jail at 12:30 a.m. Friday.
Wise was charged Friday with one count of aggravated robbery, two counts of aggravated assault with a handgun, two counts of aggravated assault with a motor vehicle and one count of fleeing or attempting to elude police. All six counts are felonies. He made his first court appearance Friday afternoon in Douglas County District Court, where Judge Jack Murphy set his bond at $250,000.
He is scheduled to appear at 2 p.m. Wednesday before Judge Michael Malone in court. Defense attorney Craig Stancliffe has been appointed as Wise's lawyer.
The chase
Wise is suspected of stealing a 1999 green Plymouth Voyager belonging to 57-year-old Lawrence resident Barbara Williams at 8 p.m. Thursday from a residence in the 900 block of North Seventh Street in North Lawrence.
Williams said the van was stolen while she was inside checking on her daughter's house. She's on a fixed income and only has liability insurance on her van. She's not sure how she can get it fixed.
"I feel like I'm in the bottom. I lost my car," Williams said Friday in a telephone interview. "Why did he take my vehicle?"
At 9 p.m. Thursday, a Leavenworth County sheriff's officer discovered the Plymouth Voyager traveling south on U.S. Highway 24-40. The officer began a high-speed pursuit before a sergeant ordered him to call off the chase, and Leavenworth County officers notified Lawrence police that the driver was headed for the city.
Lawrence police officers tried to stop the van near Sixth and Vermont streets, but the driver headed south and caused a wreck near 11th and Vermont streets, where one person suffered minor injuries but refused treatment.
The driver then turned onto Massachusetts Street and drove south to 19th Street.
The suspect abandoned the van and eventually encountered Trouslot in the Dairy Queen parking lot. She was trying to turn left onto Massachusetts Street when she heard metal tapping on the passenger-side window of her gold Toyota Highlander.
Trouslot, a real estate agent and retired teacher, said the man pointed a pistol and screamed for her to get out of the car or he would shoot her.
She said her heart was racing and her only thought was to get out of the car and away from the man.
In the midst of frantically fidgeting with her seat belt, Trouslot said she accidentally rolled down her window. Then, she said, she grabbed her keys from the ignition and tossed them several feet away to buy her some time.
The man ran around the front of the car and snatched the keys from the ground. Meanwhile, Trouslot got out of the vehicle and away from the man without being harmed.
Trouslot escaped with her pocketbook and her ice cream cone. Three police officers quickly arrived on the scene, and she described the man and her vehicle.
To soothe her nerves, Dairy Queen workers gave her a free cup of coffee as she finished her ice cream cone.
"She kept her wits about her pretty well," said Teri Davenport, the general manager for Dairy Queen.
Downtown chaos
Police said Wise caused two more accidents in the 1100 block of Massachusetts Street after leaving Dairy Queen. When the airbag deployed in the Toyota Highlander, he tried to enter a green Toyota van that was parked at a stoplight.
But police were able to order him away from the vehicle. Witnesses said the man was holding a gun to his head as he walked east on 10th Street.
A Kansas Highway Patrol trooper eventually incapacitated Wise with a Taser, and officers apprehended him. He was not injured, police said. Police also recovered a 9mm Ruger at the scene.
"I can tell you in a situation like that where there are a lot of people around, the Taser is a much better option because of all the people around. There's no bullets flying," said Lt. Art Wilburn, a highway patrol spokesman.
On Friday, Trouslot was counting her blessings.
"I'm just so lucky. I just think God was looking after me," she said.
Copyright 2017 The Lawrence Journal-World. All rights reserved. This material may not be published, broadcast, rewritten or redistributed. We strive to uphold our values for every story published.