Photo Gallery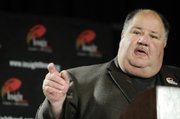 Insight Bowl nears

KU will face the Minnesota Golden Gophers in the 2008 Insight Bowl at Sun Devil Stadium in Tempe, Ariz.
When the Jayhawks have the ball
Kansas rush offense vs. Minnesota rush defense
During conference play this season, Kansas running back Jake Sharp was third in the Big 12 in rushing and has compiled 796 yards on 170 carries. Since breaking out in a victory over Iowa State earlier this season, Sharp has been a focal point of the team's offense, earning honorable-mention all-conference honors.
The Gophers, meanwhile, are allowing 146.8 rushing yards per game, seventh in the Big Ten.
Edge: Kansas
Kansas pass offense vs. Minnesota pass defense
It is a testament to the talent in the Big 12 that Kansas quarterback Todd Reesing — after throwing for 3,575 yards and 28 touchdowns this season — was left off the All-Big 12 team. Reesing was the team's unquestioned offensive leader, breaking a good deal of the passing records he established as a sophomore last season. He also enters today's game with a receiving corps that features All-Big 12 selection Dezmon Briscoe and honorable-mention selection Kerry Meier.
Despite playing in the low-octane Big Ten, the Gophers gave up 231.6 yards per game through the air this fall, including 462 against Illinois. Minnesota's strength comes in its ability to force turnovers. The Gophers are second in their conference in turnover margin (30 takeaways to 18 turnovers).
Edge: Kansas
When the Gophers have the ball
Minnesota rush offense vs. Kansas rush defense
The Gophers' run game has been anemic. The team ranks 11th in the Big Ten in rush offense with 105.8 yards per game, and although a power running game was recently implemented in preparation for today's game, it will need to be much-improved for Minnesota to have success offensively. In their final four games of the season the Gophers averaged just 64.3 yards per game and 2.5 yards per carry.
For all their troubles against the pass this season, the Jayhawks have been mighty good against the run. They are 33rd nationally in rush defense, allowing just 126.7 yards per game.
Edge: Kansas
Minnesota pass offense vs. Kansas pass defense
If things go as Minnesota coach Tim Brewster hopes they will today, and the Gophers are able to establish some form of ground game, it likely will help open up the pass for Weber. An All-Big Ten second-team selection, Weber threw for 2,585 yards and 14 touchdowns with a 63-percent completion rate.
A mid-season secondary shake up forced the Jayhawks to undergo some growing pains, but KU coach Mark Mangino hopes the moves will pay off in the long run. In the meantime.
Edge: Minnesota
Special teams
After establishing themselves as the worst kickoff-return team in the nation, the Jayhawks got a ray of hope in their regular-season finale against Missouri. Receiver Dezmon Briscoe returned seven kicks for 195 yards. Kicker Jacob Branstetter has gone 9-for-12 on field goals this season, and punter Alonso Rojas has averaged over 40 yards per punt.
The Gophers' kickoff-coverage unit ranked first in the Big Ten, and Minnesota is third in the conference in punt returns with a 10.2-yard average. But the Gophers have been below average in other areas.
Edge: Kansas
Copyright 2018 The Lawrence Journal-World. All rights reserved. This material may not be published, broadcast, rewritten or redistributed. We strive to uphold our values for every story published.