-->
-->
Photo Gallery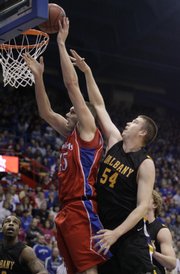 KU vs. Albany
Cole Aldrich scored 20 points, grabbed six boards and blocked three shots, Tyrel Reed added 12 points off 3-of-5 shooting from three-point land and Kansas shredded Albany, 79-43, on Tuesday night at Allen Fieldhouse.
Anthony Raffa was the only player in double figures (11) for Albany, which misfired on 0-15 three-point tries. Kansas was 9-of-20 from long distance.
So much for the Great Danes' rebounding margin, which was plus-8.4 entering the game. Kansas outrebounded Albany, 32-27. The Jayhawks (seven offensive boards) let Albany (11 offensive boards) get on the offensive glass now and then, but that's just about all that went wrong tonight for Kansas, which improved to 9-3 with the victory. Albany fell to 8-5.
Stay tuned to KUSports.com for postgame audio, more photos and the Keegan Ratings. And Happy New Year to all.
KU 73/Albany 37, 2:51 2nd half
You've got to like this: Matt Kleinmann, Tyrone Appleton, Conner Teahan, Chase Buford and Brennan Bechard is the KU rotation at the 2:50 mark. Shows you exactly how this game has gone.
Can KU play like this on Saturday against Tennessee? It should be interesting to see how the Jayhawks respond against the Volunteers, 9-2 and ranked No. 14 in the nation.
The Rock Chalk chant starts with 1:20 remaining. The chant honestly could have started in the first half, because this one's been over for a while.
KU 70/Albany 37, 3:50 2nd half
I think the most fitting play of this game was when Reed found Aldrich on an alley-oop dunk early in the second half. Reed has played great and Aldrich, who has 20 points and six rebounds, is the best player on the floor tonight.
Kansas went on a 12-0 run to extend its lead. Marcus Morris hit his first three-pointer in a KU uniform. All is well for the Jayhawks tonight.
KU 56/Albany 29, 10:13 2nd half
Reed has tied his career high in scoring with 12 points. He's converted three of his five three-point tries. Aldrich leads all scores at the moment with 18.
The Rock Chalk Chant should start rather early tonight. Any takers on how much time will be on the clock when this starts?
KU 46/Albany 23, 14:40 2nd half
An interesting aspect of this game to me is the inside battle between Aldrich and Albany's Brett Gifford. Aren't there times when Aldrich looks like the best defender in the Big 12 and arguably the country? He's frustrated Gifford, who already has four fouls, all night. The way this game is going, Gifford should foul out any time now.
OK, so Collins' ankle is officially fine. How sweet was the junior's up-and-under around the 11:20 mark in the second half? He hung in the air on the left side of the net, ducked under the rim and flipped it up on the right side. There's nothing the Great Danes can do to stop this kind of athleticism.
So how is everyone looking at this game? KU easily looks better than has all year, but it's Albany. I'm thinking some walk-ons get playing time tonight. We'll see.
KU 42/Albany 21, 16:50 2nd half
Collins came up limping at the 17:45 mark in the second half. It appears as if the junior guard cramped up on an early possession in the second half. Humid evening in the fieldhouse, so a cramp may be all it is. If the training staff has the slightest doubt, Collins shouldn't play the rest of the night with this game already won. Stay tuned.
Update: Collins is currently back at the scorer's table waiting to check in. It was likely just a cramp and Collins appears fine.
Three first-half observations
1. KU isn't missing a whole lot from the field. The Jayhawks are 13-of-20 (65 percent) from the field, 6-of-8 from three-point range (75 percent), and 8-of-9 (88.9 percent) from the free throw line. Can it get any better?
2. Albany isn't making a whole lot from the field. The Great Danes are shooting a putrid 24 percent from the field.
3. KU is sharing the ball better than it has arguably all season. The Jayhawks have 13 field goals and 13 assists. Probably the main reason for this holiday blowout.
KU 40/Albany 19, Halftime
Kansas scoring leaders: Tyrel Reed 9, Cole Aldrich 8, Travis Releford 7, Markieff Morris 4, Quintrell Thomas 4, Tyshawn Taylor 3, Sherron Collins 3, Marcus Morris 2.
The Jayhawks continue to dominate the Great Danes in all facets and carry a 21-point lead into the half. Releford drilled a three-pointer and then scored on a beautiful feed along the baseline from Sherron Collins to end the half. Releford has only attempted three three-pointers all year, and has converted two of them. Kansas is a scorching 6-of-8 from long distance.
Here's a telling stat: Kansas shooting percentage: 56 percent on 9-of-16 shooting, whereas Albany is 26 percent off 6-of-23 shooting. Aldrich is off to a fast start with eight points.
Big cheer from the student section when the video board displayed a promo of Kansas beating Missouri last season on its way to a men's basketball national championship. Nothing like involving Missouri to get the student section going. In fact, Albany's starting center, Brett Gifford, is from Columbia, Mo., and brought 15 people to the game. I bet his guests loved it.
KU 24/Albany 8, 9:11 1st half
Albany simply cannot score tonight. It's been eight minutes since the Great Danes have converted a bucket.
Tim Ambrose finally scored at the 9:20 mark, but here's how it's gone for Albany so far: KU's Travis Releford immediately followed Ambrose's layup with a slam about five seconds later. The Jayhawks are lighting up the scoreboard tonight with 70-percent shooting. I know this is Albany, but no signs of a Tucson hangover whatsoever.
KU 18/Albany 6, 11:21 1st half
Dribble penetration just created two KU three-pointers. Tyrel Reed was the beneficiary of two possessions of Kansas players dribble-driving to the basket. He's now hit two threes in an 11-2 KU run. Albany looks outmatched in nearly all facets of the game so far. Kansas is 4-of-4 from long range.
KU 12/Albany 6, 15:26 1st half
KU began the game in its holiday red uniforms. The Jayhawks stormed out of the gate and converted their first three shots: A Markieff Morris throwdown, a Cole Aldrich top-of-the-key jumper and a Sherron Collins trifecta from the left sideline. A nice start for KU.
The hustle seems good so far. Sherron Collins' save of the ball at halfcourt was nice to see and it resulted in a Tyshawn Taylor three-pointer, so the hustle was rewarded. On the defensive end, Cole Aldrich has already made his presence known with two monster swats. It's Aldrich's ninth game with at least two blocks - and we're only five minutes into the game. Yikes.
7:58 p.m. update
KU coach Bill Self recently said Mario Little would be able to play in a game in about seven days, which would potentially make him available for the Siena game next Tuesday. Little was seen at halfcourt in street clothes during warm-ups. No surprise there.
KU starters just named: Sherron Collins, Tyshawn Taylor, Brady Morningstar, Markieff Morris and Cole Aldrich.
7:50 p.m. update
Ten minutes until game time. The Jayhawks' loss to Arizona last week must have motivated the student body to return to Allen Fieldhouse. As of now, barely any empty seats in the student section in the middle of winter break.
Pregame
Welcome to KUSports.com and thanks for spending time with us during our live game updates. We're about two hours away from Kansas (8-3) playing host to Albany (8-4) at Allen Fieldhouse. Until then, here's some Gameday Cram Session-type nuggets to get you set for tonight's action.
Three things to look for from Kansas:
1. Signs pointing toward an identity. I'm not saying the Jayhawks must establish an identity tonight. We may not see that until the Big 12 Conference season starts, but with such a young team, that's pretty much expected. And — all due respect to the Great Danes — identities aren't established in home games against Albany. So tonight, look for signs of hope. Look for two halves of consistent play, something Kansas didn't do last week against Arizona when it led led by three in a productive first half in Tucson, then got outscored by 20 in the second half.
2. The role of Brady Morningstar. Lately, it's been keeping the opposition's best player (Temple's Dionte Christmas, Arizona's Chase Budinger) in check. It's interesting to note the 6-foot-3 Morningstar has been defending considerably taller opponents (Budinger 6-7, Christmas 6-5). That shouldn't change tonight, when Morningstar could be assigned to Albany's Will Harris (6-6), who's averaged 12.4 points in his last five games. Harris is a University of Virginia transfer.
3. The offensive production from Sherron Collins, Cole Aldrich and Tyshawn Taylor. You typically know what you're getting from Collins, who's led the Jayhawks in scoring in nine of their 11 games, including the last four. But here's guessing if these three are in double figures tonight, Kansas wins big.
Three things to look for from Albany:
1. Its rebounding margin. Much has been made of the Great Danes' plus-8.4 rebounding margin, good for 17th in the nation. That's nice and it's worth keeping an eye on, but I'm not exactly buying it for this game. The Jayhawks lead the Big 12 with a 9.9 rebounding margin, which is 12th in the nation. Let's see what Albany can do against a major-conference opponent.
2. Starting center Brett Gifford's production on the glass. The 6-11 center is Albany's best rebounder. He likely won't be welcomed by Jayhawk fans, though. The junior hails from Rock Bridge High School in Columbia, Mo. He's the only Missouri native on the team. The Great Danes don't have any Kansas natives.
3. The play of guard Tim Ambrose. The 6-foot sophomore is Albany's best scorer, but he's been cold lately. After averaging 14.8 points in Albany's first 10 games, Ambrose only has six points in his last two games. It's also worth noting Albany has only faced two major-conference opponents this year in Villanova and DePaul. In those two games against the Big East opponents, Ambrose had only eight points against Villanova and was shut out against DePaul. Will he get back on track tonight against either Tyshawn Taylor or Sherron Collins?
Copyright 2018 The Lawrence Journal-World. All rights reserved. This material may not be published, broadcast, rewritten or redistributed. We strive to uphold our values for every story published.