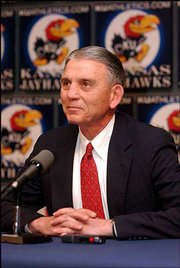 The Kansas Board of Regents has named A. Drue Jennings to chair the search committee to find Kansas University's next chancellor.
Jennings, a former chairman and CEO of Kansas City Power & Light, was announced on Tuesday as the leader of the search.
"I appreciate Drue's willingness to lead this search; his previous business, volunteer and leadership experience is such an invaluable asset," Donna Shank, regents chairwoman, said in a statement. "As a former CEO, Drue has a wealth of business and executive experience and knows firsthand what it takes to lead a large organization."
Shank also praised Jennings' involvement with a number of different facets of the university, including KU Endowment, KU Medical Center, the Edwards Campus and the athletics department.
Chancellor Robert Hemenway, who joined KU in 1995, announced his resignation earlier this month.
Jennings has helped lead searches for KU in the past, including those that culminated in the hiring of athletic director Lew Perkins and men's basketball head coach Bill Self. He also served as interim athletic director in 2003.
He resides in Prairie Village and is a senior counsel with the Kansas City law firm Shughart Thomson & Kilroy.
The regents' next task in the chancellor search is to name the rest of the approximately 15-member committee. In previous meetings, regents have expressed a desire that the committee represent key university and community constituencies such as students, faculty, staff, alumni/endowment, the Board of Regents, the Lawrence community and the broader state community.
Copyright 2018 The Lawrence Journal-World. All rights reserved. This material may not be published, broadcast, rewritten or redistributed. We strive to uphold our values for every story published.