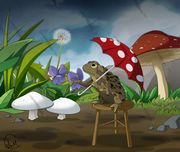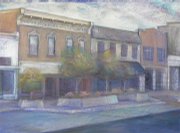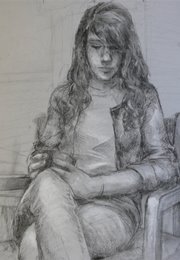 Amelia Magerl grew up around art, attending preschool at the Lawrence Arts Center.
"Art was always my favorite class in elementary school," she says. "And then when I got into junior high and high school I thought, 'Oh, I can actually consider this as a career.'"
Now a senior at Lawrence High School, Magerl is looking to enter college next fall and pursue a career in graphic arts.
Magerl is the ArtStar for the month of December. The award is sponsored by The World Company and Jayhawk Dental.
Magerl always enjoyed painting and drawing, but it wasn't until she took a digital imaging class her sophomore year at LHS that she seriously started thinking about art as a job. In the class, she learned about photo editing software, layout and logo design.
"I could see how art could be applied to the real world, and there are so many communication art careers," she says.
She enjoys creating art on her computer, but that doesn't mean she's left the traditional art world behind.
Magerl still does plenty of painting and drawing, focusing on pastels and charcoal. Her drawings of buildings, in particular, stand out with the depth she adds to the works.
"I usually just start with doing base colors and getting down the perspective," she says. "And if you really look at something, you see all these other colors come through that you don't always notice right away. I try to put those extra colors in the paintings — the pastels — and give them this extra life and energy."
While her classwork keeps her busy during the day, her true passions are anime — she draws her own characters, and is president of the LHS Anime Club — and drawing Norse mythological characters.
"I think it's mainly all the characters and personalities that show up in that, and the way the gods and goddesses interact with each other," she says. "It's so inspiring and fun, and at the same time it's dark."
Wendy Vertacnik, LHS art teacher, says Magerl is "obsessive" about her work — whether it's in the classroom or at home.
"Each stroke that she puts to paper seems to have thought behind it," Vertacnik says.
And she notes that Magerl doesn't stop learning when school lets out in the spring. She has attended classes at the Kansas City Art Institute the past two summers, and she's taken several workshop classes with artist Pat Nemchock.
"She's just so hard-working," Vertacnik says.
In addition to her artwork, Magerl plays French horn in Symphonic Band, Marching Band and Orchestra.
"I try to put a lot of the musical energy and fluidity into the pictures," she says. "And I always listen to music when I'm drawing and painting. I hope that shows through the pieces and gives them a musical energy of sorts."
As for next fall, Magerl is planning to major in art. Kansas University and the Kansas City Art Institute are at the top of her list right now.
"I basically want to keep doing what I'm doing now but make a career out of it," she says. "I've always heard if you do something for a job, you kind of lose your momentum and don't like it as much. But I'm hoping that won't be the case."
ArtStar
The ArtStar award, sponsored by Jayhawk Dental and The World Company, is given monthly to a senior at a high school in Lawrence who excels in the fine arts.
Nine winners will be selected throughout the school year, with an overall winner selected at the end of the year. That overall winner also will receive a scholarship.
Nominations must be made by art teachers. To nominate a student, call Terry Rombeck, Journal-World features and special sections editor, at 832-7145 or e-mail him at trombeck@ljworld.com.
Copyright 2018 The Lawrence Journal-World. All rights reserved. This material may not be published, broadcast, rewritten or redistributed. We strive to uphold our values for every story published.