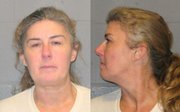 A Douglas County Jail inmate who failed to return to the correctional facility after being released by a judge over Christmas has been identified as Candice Amyx.
Amyx was released from the jail at 8 a.m. Christmas Day and ordered to return at 8 p.m. the same day, but hasn't. District Judge Jack Murphy granted a temporary leave for Amyx, court records said.
She was booked into jail Sept. 3, pleaded no contest to four charges of forgery and one charge of theft Sept. 29, and is awaiting sentencing that's scheduled for 3 p.m. Jan. 12.
Lawrence police and Douglas County Sheriff's officers are searching for the woman, who is not considered dangerous. Douglas County Sheriff's Sgt. Steve Lewis said it was uncommon for inmates not to return upon court order.
Anyone with information about Amyx's whereabouts, or whom she may be with, should call Crime Stoppers at 843-TIPS or 911, Lewis said.
Lawrence City Commissioner Mike Amyx said the inmate is his former sister-in-law. Candice Amyx was married to the commissioner's youngest brother, who is now deceased, about a decade ago.
Copyright 2018 The Lawrence Journal-World. All rights reserved. This material may not be published, broadcast, rewritten or redistributed. We strive to uphold our values for every story published.