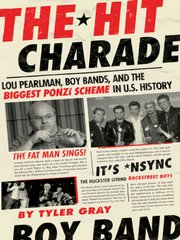 Credit for the biggest American Ponzi scheme ever may yet go to Bernard Madoff, the New York investments "wizard" arrested this month for allegedly building a $50 billion hall of mirrors. For now, fallen boy-band mogul Lou Pearlman owns the title — and probably a few more epithets.
A stranger and more complicated personal history would have been difficult to invent, let alone comprehend. But Tyler Gray, a former Orlando Sentinel reporter who saw Pearlman's O-Town pop factory up close, has done meticulous and highly readable work in chronicling the man's peculiar glory and well-earned ruin in "The Hit Charade: Lou Pearlman, Boy Bands, and the Biggest Ponzi Scheme in U.S. History" (HarperCollins, $24.95).
Pearlman first found his niche in the prosaic trade of aircraft leasing and conducted himself around New York with a kind of Tinseltown savoir-faire before he gravitated to actual show business in Florida.
And he was more than a crooked money manager mingling legitimate, if dubious, enterprises with outright theft. (In the final tally he stole $500 million in investor cash, household savings and retiree nest eggs.) Using money from his con, this self-made hustler from Queens became a modern-day Colonel Parker of pop: Pearlman oversaw the creation of two bona-fide music juggernauts, Backstreet Boys and 'N Sync.
Gray astutely connects the New York and Orlando phases and the $3 million spent assembling, preparing and promoting the first of the two groups, Backstreet Boys:
"Part of his plot was to make the group look and sound successful long before they ever became stars — a fine, if not inexpensive, art Lou himself had honed as a Rolls-driving, penthouse-dwelling Queens fat cat."
Tellingly, both acts would sue to get free of their Svengali, who regarded the lion's share of their fantastic earnings as his due.
Pearlman's involvement in the lives of young men and boys also bred questions about his behavior, and whether his Orlando kingdom was some kind of pedophile's Eden. Gray confronts the issue but doesn't settle it.
The end of that boy-band era in the 2000s coincided with the unraveling of Pearlman. Authorities acting on investor complaints closed in on him. The cash flow dried up. A Pearlman associate committed suicide. Pearlman fled the country, but finally had to face the music.
At his sentencing in May, the defense lawyer delivered an accidental epitaph: "Mr. Pearlman did live large, if you will, but judge, he was in the entertainment business."
Copyright 2018 The Lawrence Journal-World. All rights reserved. This material may not be published, broadcast, rewritten or redistributed. We strive to uphold our values for every story published.