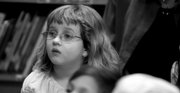 In October 2008 we first introduced you to Katherine Cook. Her life came to a halt when a bullet pierced her head. It was a freak accident that remains unsolved. What continues is the journey of a remarkable recovery.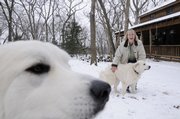 The sounds and sights of nature are abundant outside Beth Hoffman's log house on a secluded hilltop in northwestern Douglas County.
A variety of birds also make their home on the wooded 15 acres Beth and her husband, John, bought 10 years ago. Deer are often seen and occasionally a bobcat.
"This is paradise," Beth Hoffman said.
Sometimes that paradise is interrupted. Along with the sounds of nature there are disturbing sounds that make Hoffman nervous.
Gunshots, sometimes even at night.
"It doesn't matter whether there is a hunting season or not," Hoffman said. "It's any time of the year."
Stray bullets
Hoffman worries about stray bullets and shotgun pellets. Her concerns escalated after a little girl was struck in the head by what may have been a stray bullet nearly a year ago in rural Leavenworth County.
Katherine Cook, 5, was playing in her backyard near Linwood when the incident occurred in February. She survived but has a long recovery ahead of her. Nobody has been arrested or come forward to say they were the shooter. Sheriff's officers have been tightlipped about their investigation but said there was no indication that the girl was targeted. It could have been an accident.
Hoffman said she doesn't feel safe because she doesn't think some hunters are practicing hunter safety. Late one night, a law enforcement officer knocked on the Hoffmans' door. He was checking to see if they were all right, Beth Hoffman said. Neighbors had called about poachers, and officers had found them on the Hoffmans' property.
No hunting
The Hoffmans don't allow hunting on their property, even though no signs are posted.
"I suppose we should, but I don't think it would make any difference," she said. "If a hunter is tracking something, I don't think he is going to stop just because he thinks he has gone over onto someone else's property."
Beth Hoffman thinks there should be a law that prevents hunters from hunting within a certain distance of a house.
By law, a hunter has to ask for permission to hunt on someone else's property, Kansas Wildlife and Parks Department spokesman Bob Matthews said. The landowner can post signs stating that written permission is required to hunt. Under Kansas law, an 8-inch by 10-inch purple square painted on the top half of a few fence posts carries the same meaning as a sign.
Shooting rules
Incidents involving a nonhunter being struck by a stray bullet are rare, Matthews said.
As for requiring hunters to stay a certain distance from a house, rifle bullets can travel as far as two or three miles, Matthews said.
"We conduct hunter safety classes and a variety of other things trying to encourage safe hunting," he said. "So much of it depends on the personal ethics and responsibility of the person pulling the trigger."
Some states require hunters to keep their distance from a house. Under New York law, hunters must not discharge a weapon or bow within 500 feet of an occupied residence or business. In November, New York authorities charged a deer hunter with second-degree manslaughter when a stray bullet struck and killed a toddler who was outside her grandparents' home.
Accidents
Hunting accidents usually involve hunters shooting other hunters, said Wayne Doyle, hunter education program coordinator with Wildlife and Parks. In Kansas in 2007, there were 19 hunting accidents and one was fatal, he said. So far this year, there have been 11 accidents with three fatalities.
"Most of the hunting accidents — over half in Kansas — turn out to be swinging on game," Doyle said. "Usually one hunter of a party shooting somebody or sprays them with shot."
Accidents were reduced dramatically 30 years ago after Kansas lawmakers passed a law requiring that anyone born after July 1, 1957, who wants to hunt must be certified by an approved hunter education course. Prior to that law, annual hunting accidents numbered in the 70s and 80s, Doyle said.
Taking precautions
Nevertheless, Hoffman still worries about stray bullets. She thinks the law also should require hunters to notify neighboring residents that they will be hunting on nearby land.
The Hoffmans have taken additional steps of their own to increase safety around their house. An invisible electric fence keeps their two white Great Pyrenees dogs from roaming far from the house. Gates have been installed on their wrap-around porch to keep grandchildren from wandering away.
As much as she likes wildlife, Hoffman knows that their populations need to be controlled and she insists she's not against hunting.
"I'm not condemning hunters," she said. "I just want more safety regulations."
Copyright 2018 The Lawrence Journal-World. All rights reserved. This material may not be published, broadcast, rewritten or redistributed. We strive to uphold our values for every story published.