Correction
After this article was originally published, the Journal-World learned that Patty Truex does not have cancer, according to Dr. Kathy Gaumer, her physician. Truex is being treated for proliferative endometrium with possible hyperplasia and possible endometrial polyp. Hyperplasia is considered a pre-cancerous lesion, according to Gaumer. This condition can be treated with medication as well as surgery.
How to help Patty Truex
A few people have come forward to help Patty Truex raise money for a down payment on a hysterectomy.
A fund is being set up at Bank of the West, 4114 W. Sixth St. The bank's number is 841-7311.
The fund is called Patty's Cancer Fund.
Photo Gallery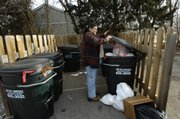 Slipping through the cracks
Three months ago, a 43-year-old Lawrence woman was told that she needed to have surgery to remove her right ovary and uterus. She also was told that the blood in her uterus was forming cancer cells. She is still awaiting treatment.
Three months ago, a 43-year-old Lawrence woman was told that she needed to have surgery to remove her right ovary and uterus. She also was told that the blood in her uterus was forming cancer cells.
She is still awaiting treatment.
•••
On a recent morning, Patty Truex sobbed and wiped away tears with a tissue as she described her situation.
For the past three years, she has been homeless and living with friends. She keeps her clothes and personal belongings in her car.
Patty makes $9.25 an hour working for Lawrence-based Assist LLC, which provides services for the disabled. She takes on as many hours as possible and has reduced her debt from about $10,000 to $5,000. She can't move into a new place until she pays off the utility bills that she still owes.
She says she can't afford private health insurance.
"It's not offered in this kind of work," Patty said. "If I gave them $200 out of my check every payday, I wouldn't have anything to live on."
She went to Health Care Access, which provides primary health care services for the uninsured in Douglas County, when her right ovary was causing excruciating pain and her menstrual cycle was highly erratic.
She said she was referred to Dr. Kathy Gaumer, of Lawrence OB-GYN Specialists, who provided the first visit for free. After the visit, Patty received a call from a nurse who said she needed to pay $900 before they would perform a hysterectomy. She also was notified about the cancer and that she needed further testing.
Patty said she couldn't afford that, so she sought help elsewhere. But her search has been frustrating. She has been told that she makes too much money to be eligible for low-income assistance. Some have offered help, but at an even steeper payment price.
Although they can't help her financially, she is thankful for the support and services that Health Care Access and the American Cancer Society are providing.
"So many people fall through the cracks," said Sally Zogry, development assistant and volunteer coordinator at Health Care Access. "They make too much to get any government services and then they don't make enough to afford the benefits that they are offered. Or they work in jobs where health benefits are not offered and they certainly can't afford to have private insurance. They have nowhere to go. They have no recourse."
•••
Bill Marting, vice president of financial operations at Kansas University Hospital, said there is no industry standard when it comes to charity care and financial assistance. It varies from building to building and doctor to doctor.
At KU Hospital, someone would qualify for discounted services or a write-off if they made 200 percent or less of the federal poverty guidelines. For a one-person household, that would be $20,000. Marting said there is some level of assistance for people who make up to 400 percent of the guidelines.
KU Hospital also offers financial assistance for patients who have bills that far outweigh their income.
"So if you make $90,000 a year and you have a bill for $2 million, then you are going to have the ability to access our financial assistance programs as well," Marting said.
If patients get into a situation where they are in dire need of health care and can't afford a payment, Marting said, persistence can pay off. Often a hospital seeks a payment plan to maintain financial viability and to find out a person's financial resources. But it's not a "hard stop."
Dennis McCulloch, a hospital spokesman, added, "You've just got to keep asking the question and keep being very forthcoming about your situation. Hospital financial people are very talented people, but they are not mind readers."
Debra West, director of Lawrence OB-GYN Specialists, said assistance and payment plans are offered on a case-by-case basis in her office.
"If a patient is unable to meet the guidelines that we have set, then they usually come talk to me, and we look at the case individually and between the physician and myself see what we can do to work with the patient," West said.
Patty, however, said she was willing to work out a payment plan.
When patients can't find help, they often end up in a hospital emergency room where health care can't be denied. That's what Patty is hoping to avoid.
•••
Patty says her situation is getting worse.
"I feel like I am 78 years old," she said while dusting furniture. "This is a workout."
Patty was cleaning for Debbie Fulks, 46, who receives assistance through Assist LLC. Patty and Fulks were matched up through the company three years ago.
Fulks has fibromyalgia, a muscle disorder; obsessive-compulsive disorder; and emphysema, which requires oxygen at night. She has had OCD since she was a little girl and the disorder causes her to do things that she doesn't remember. For instance, she hides things, such as silverware and jewelry, in the house. Patty also has found Fulks sleeping outside in the yard with a blanket.
"She has got a hard job and I give her credit for hanging in there because I do things in my sleep that I don't know I am doing. She has to tolerate my crazy mind," Fulks said.
She added, "There's nothing that she doesn't do for me."
Patty cleans the house, cooks, takes care of Fulks' personal hygiene, manages her money and medications, runs errands and buys groceries. If it weren't for Patty's care, Fulks said, she would be in a nursing home.
"There are days when I can hardly get up off the couch. There are days she has to get me up out of the bed," Fulks said.
Neither of them has close family in the area, so they have leaned on each other through tough times. Fulks often provides Patty with a warm place to spend the night.
Fulks said it hasn't been easy to watch her friend and caregiver suffer.
"She was always friendly and happy-go-lucky and now she is bawling or in bed or jumping down somebody's throat. In her position, I can see why," Fulks said. "I just can't believe that a doctor is saying until I have $800 or $900 in my pocket, I am not doing your surgery, but you do have cancer."
Fulks said she lost three aunts and her mother to cancer.
Tears formed in her eyes and she took a deep breath before saying, "I can't lose Patty."
Copyright 2018 The Lawrence Journal-World. All rights reserved. This material may not be published, broadcast, rewritten or redistributed. We strive to uphold our values for every story published.