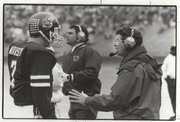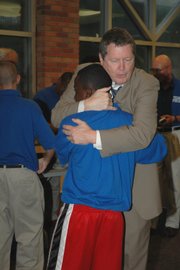 There is much about Mike Gottfried, a former Kansas University football coach and current ESPN college football analyst, that delineates a fatherly presence.
The naturally calming demeanor, the impossible patience and politeness, and the ability, at age 63, to inject a good dose of self-deprecating humor into everyday conversation.
Of his firing from Pittsburgh following the 1989 season, for instance, despite having signed a lifetime contract, Gottfried says, "I guess they determined me legally dead up there."
It should come as no surprise, then, that for the past eight years, Gottfried has dedicated himself to a program — "Team Focus", an organization he and wife Mickey founded in 2000 — aimed at providing guidance to kids growing up without fathers.
In camps held across the country each summer, participants — each of whom is growing up in a father-less home — learn various life skills and lessons: table manners, how to tie a tie, even proper date etiquette, which is an especially popular discussion topic.
"It's stuff," says Team Focus alum Chris Bittner, now a sophomore linebacker at Eastern Michigan, "my dad would have taught me."
The ultimate goal of the program, which is free to all participants, is to provide a positive influence in the lives of young men, and the list of individuals who have offered their support — in the form of lectures, signed memorabilia and visits — reads like a who's who of college football coaches: Texas' Mack Brown, Alabama's Nick Saban, Penn State's Joe Paterno, Florida State's Bobby Bowden. The list goes on.
And while the program officially has been in existence for less than a decade, in reality, it's based on principles Gottfried, who lost his own father at age 11, has been teaching for the better part of 40 years.
Johnson not surprised
When Monte Johnson heard his friend and former colleague was founding an organization aimed at providing fatherless boys a positive — and constant — male influence, it didn't exactly come as a shock.
Johnson, who served as the Kansas athletic director from 1982 to '87, had seen Gottfried do essentially the same thing as head coach of the KU football program. During his three-year stint as head coach at Kansas — much like he had since he entered the coaching world in 1966 as head coach of Roseville (Ohio) High — Gottfried developed a reputation for taking struggling youth under his wing.
When he arrived at Kansas prior to the '83 season, for instance, the program was suffering from some ingrained discipline issues. Academics were an area of concern, and local police would call Johnson regularly to inform him of another incident at Jayhawker Towers, an apartment complex many KU athletes called home.
"I'd get a lot of complaints from the police, just about what was going on at the Towers," says Johnson. "And within 30 days of him being here, that stopped."
The reason, Johnson says, is because Gottfried became a father figure to the 100-odd young men on his roster. Most coaches go out of their way to become part of their athletes' lives. None, though, seemed to go quite as far as Gottfried.
With a staff that included current Illinois coach Ron Zook, Carolina Panthers coach John Fox and Cincinnati Bengals receivers coach Mike Sheppard, among others, the dynamic of the team quickly changed for the better, and Kansas' record improved with it, as the team won four games in '83, five the following year and six in' 85 — Gottfried's last season at Kansas before taking the head coaching job at Pittsburgh.
"When I got out there, there were some built-in problems that had happened before academically," says Gottfried. "I was going to do it a certain way, and I was looking for the guys that were going to be with the team and not the guys that weren't going to be with us."
Says Johnson, "It was like he was treating them like they were his own children. When he was growing up, he didn't have a father, and boy, these kids benefited from having him around."
Settled in Mobile, Ala.
When his coaching career drew to a close — after stops at Murray State, Cincinnati, Kansas and Pittsburgh, Gottfried finished with a 77-56-6 career record — he and his wife settled in Mobile, Ala.
There, Gottfried, who by that time had been hired by ESPN as an analyst, was asked to assist with the implementation of the GMAC Bowl in Mobile in 1999. He did his part, the bowl was a success, and with the $15,000 or $20,000 left over from bowl funds, Gottfried was given permission to hold what was expected to be a one-time camp for father-less boys.
The camp took place in 2000 in Mobile, where 60 boys showed up to undergo a week-long motivational seminar aimed at providing a positive influence.
Since then, it has blossomed in a way Gottfried never could have imagined. The program has held camps in Washington D.C., Las Vegas (where Pete Rose stopped by to talk to the kids), and California. The participants gather throughout the year to attend sporting events, munch on pizza, play basketball.
What Gottfried has gotten out of the program is an opportunity to help fill a void in the lives of father-less boys. What the kids have gotten is an around the clock mentor, available at any hour for advice and support. Each member gets Gottfried's cell phone number, and each is encouraged to call whenever they need anything.
The 'always-available' policy can sometimes be a bit problematic — like when Gottfried's cell phone goes off during an ESPN broadcast — but it's worth it, he thinks, to make sure his kids always have someone to talk to.
"There is never a moment where they need to get to Mike where they can't pick up a cell phone and get him," says Donna Williams, who has worked as a member of the Team Focus program since its inception.
He's gotten calls from former campers serving in Iraq, and helped others with the stresses of participating in collegiate athletics.
Camper in tears
One day, he got a call from a camper in tears. Gottfried asked what could possibly be so bad, and the boy responded that he'd gotten caught forging his mother's signature at school — a story that prompted laughter from Gottfried.
"It's not funny," said the boy, still in tears.
Gottfried then told the boy about his own brief history in document manipulation, about the day during his freshman year of high school when he'd received his first "F", and — deciding that a failing grade wouldn't fly at home — altered the "F" to look like a "B". He also told him about the subsequent punishment ("I used the wrong kind of ink," says Gottfried) he endured after getting caught.
By the time the conversation ended, the boy was giggling right along with Gottfried.
"I've made so many mistakes in my life that I can't keep up with them," says the former coach. "I'm just trying to teach them how to handle some of these things."
Almost walked away
Only once in the eight years Team Focus has been in existence has Gottfried considered walking away.
In 2003, while in Colorado with his wife, he got a call from an official at a Big East university. The official wanted to offer Gottfried the head coaching position at the school, which was an especially nice development, because, as Gottfried says, it represented an opportunity to prove that Pittsburgh made a mistake in letting him go.
After hanging up the phone, Gottfried was smiling from ear to ear.
"What are you smiling about?" Mickey said.
"They want me to be coach," he responded.
"What about the boys?" Mickey asked.
"What boys?" said Gottfried.
And then Mickey said something that made Gottfried swallow hard and make a decision that he hasn't regretted since. She looked at him and said, "The boys you've been telling for years that you're going to be walking in line with."
"That stopped me in my tracks," says Gottfried now. "... I've never looked back after I made that decision. I said 'I'm done (with college coaching).' I'm coaching in a different way now."
Focus on Team Focus
So in the years since, he's focused the large majority of his free time to improving and expanding Team Focus.
In 2009, the program will hold 10 four- to five-day camps across the country, and there are plans to institute a number of mini-camps, as well, as a way for everyone to keep in touch throughout the year.
Recently, the organization also opened an office in Mobile. The hope is to eventually build a gymnasium in the back, where mothers in need of a break can drop their kids off to play basketball, get tutored and study.
The more kids he can assist along the way, Gottfried figures, the better.
"I really want everybody to make it," he says. "I guess in the end, that's what you're trying to do."
Copyright 2018 The Lawrence Journal-World. All rights reserved. This material may not be published, broadcast, rewritten or redistributed. We strive to uphold our values for every story published.