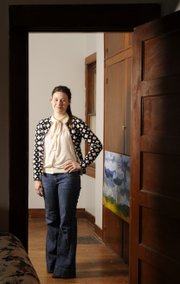 As millions of Christians prepare to celebrate the birth of the world's most famous homeless child, it's an opportunity to turn our thoughts toward Lawrence's homeless children and one of their advocates, Valerie Miller-Coleman.
Homeless children here?
Surely not, you say.
"On any given day, there can be over 100 homeless children, most under 7 years old," says Miller-Coleman, 28, recently appointed director of the local chapter of Family Promise.
The national organization provides support for homeless families as they transition into permanent housing.
"You'll see homeless children and families at grocery stores, schools and walking around town, but you won't recognize them," Miller-Coleman says.
She says it's easy for low-income families to become homeless due to unexpected job loss or illness.
Miller-Coleman is excited about her new role. It's a natural fit for the gifts, beliefs and passions she's developed since her childhood in Des Moines, Iowa. She says her church, United Church of Christ, has a motto: "Agree to differ, resolve to love, unite to serve." And it expects members to practice it.
Her father, David, a mechanical engineer, and mother, Marilyn, a business owner and linguist, live by this motto and encouraged their daughter to work for justice for all people.
"This inherited passion for social justice led me to focus my studies on the intersection of social justice action and faith practices," Miller-Coleman says. "After traveling for a year studying these connections in faith communities around the world in places like India, Mexico and Guatemala, I realized that rather than simply study the justice movements and their faith leaders, I might be able to become a faith leader myself."
She graduated with a bachelor's degree in religious studies from Macalester College in St. Paul, Minn., in 2002, taught literacy courses for at-risk youths at Des Moines Area Community College and then worked with the Jesuit Volunteer Corps in Birmingham, Ala.
She was case manager in a 32-bed drug treatment center serving low-income and homeless clients.
In 2004, she pursued a Master of Divinity degree at Vanderbilt Divinity School in Nashville, interned as a hospice chaplain and served as a community outreach minister at a Nashville United Methodist church.
"I delighted in this position. The congregation had enormous heart, served a low-income neighborhood, and half of its members were homeless folks," Miller-Coleman explains.
"My duties consisted in developing grass-roots leadership. ... I could have stayed there forever, but I fell in love with a Kansan, married, and we moved to Lawrence in 2007 to be near both of our families."
Her husband, Benjamin, is a doctoral student at Kansas University's School of Law.
When Miller-Coleman searched the local classifieds, she didn't hold out much hope of getting a job to match her passions.
She was wrong. She responded to an ad for a homeless outreach worker at Bert Nash Community Mental Health Center and got it.
Miller-Coleman volunteered with the Lawrence Family Promise initiative before being appointed its first director.
"We work intensively with four homeless families at a time in a house on Tennessee Street provided by Ninth Street Baptist Church, and at day shelters provided by local churches on a rotational basis," she explains.
"Our aim is to move families into permanent housing within two months. With ongoing community, church and local landlords' support, we'll keep working to ensure every homeless child in Lawrence gets a permanent home."
Copyright 2018 The Lawrence Journal-World. All rights reserved. This material may not be published, broadcast, rewritten or redistributed. We strive to uphold our values for every story published.