On the street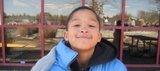 I guess go to a bunch of friends' house.
Bored over the holidays? Here are some family-friendly activities in Lawrence:
• Baseball holiday skills camp, offered by KU, 9:30 a.m. Saturday through Monday at Anschutz Sports Pavilion. Cost is $195. For more information, call 864-7907.
• Learn about KU's athletic history at the Booth Family Hall of Athletics. Open 10 a.m.-5 p.m. Monday through Saturday, though times on game days vary. Admission is free. Closed Dec. 24-26.
• Visit the Natural History Museum at KU's Dyche Hall. Hours are 9 a.m.-5 p.m. Monday through Saturday. Closed Dec. 25-26.
• Go to a KU basketball game. Tickets are available for both men's and women's games over the break. Check out www.kuathletics.com for availability and a schedule.
• Learn about Jewish culture with an olive press workshop led by Rabbi Zalman Tiechtel of the Chabad Jewish Center. The presentation is at 10:30 a.m. Tuesday at the Lawrence Public Library, 707 Vt.
• Go ice skating. The Crown Center Ice Terrace in Kansas City, Mo., is open 10 a.m. to 9 p.m. Sunday through Thursday and 10 a.m. to 11 p.m. Friday and Saturday.
Copyright 2018 The Lawrence Journal-World. All rights reserved. This material may not be published, broadcast, rewritten or redistributed. We strive to uphold our values for every story published.