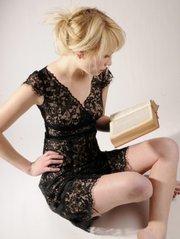 Thank you, Miucca Prada, for resurrecting lace as a modern trend.
Most fashion followers recognize that where Prada goes, most will eagerly follow; thus, this winter, lace has taken over entire designer collections and clothing racks, and spring 2009 collections are following suit, blissfully lacy.
Along with Prada, check out Roberto Cavalli, Giorgio Armani, Catherine Holstein — even TopShop — for killer ideas and wearable lace. Add funky, lace-patterned trousers, girly headbands and elbow-length, lace gloves to your shopping list, too.
Day Lace:
Lace is not just for eveningwear. Layer a sheer lace dress over turtlenecks and long-sleeved, structured shirts for a prominent, sculpted shape. Or, if you feel overwhelmed by pattern, lace separates may feel more versatile, and picking a nontraditional, bright-colored lace won't feel as formal.
Lace doesn't have to be all frills:
A lacy top beneath a masculine, military bomber jacket offers great contrast, and lace patterned tights paired with an opposite fabric or bright patterned top show off the unique textile designs in each individual lace fabric.
Black lace dresses are more romantic and dramatic — very film noir.
drowning in lace:
The intricate pattern in lace is just enough — don't don pieces plastered with trendy sequins or too many sewed-on gems and jewels.
Pick a few accessories, such as lace-trimmed shoes or a hand bag for one solid outfit, and a statement lace dress for another.
Accessorize:
To avoid looking like a tablecloth or valentine's doily, wear bold, big belts and jewelry. For example, a black belt worn around a white lace mini-dress will have a stark, urban appeal.
Copyright 2018 The Lawrence Journal-World. All rights reserved. This material may not be published, broadcast, rewritten or redistributed. We strive to uphold our values for every story published.