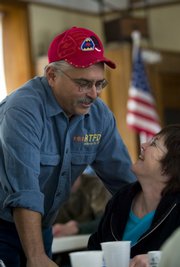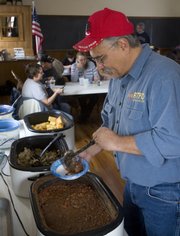 When Charlotte Rodecap asked what her son wanted to eat after spending a year working as a firefighter in Iraq, his request was a simple one: pinto beans.
It was a meal John Rodecap Jr., Lecompton, enjoyed with more than 40 of his friends and family Saturday.
His mother had been cooking since Friday afternoon, and with his wife, Cindy, had been planning for several months the homecoming party at the restored Buck Creek School, near U.S. Highway 24 in Jefferson County.
Along with 20 pounds of pinto beans, there were pots full of fried potatoes, cornbread and vegetable soup (for those in the family who didn't like the beans).
While the celebration was a special event, a returning family member from Iraq is nothing new for the Rodecap family.
John's stepson, Michael Shields, and brother, Jeremy Rodecap, served as firefighters; his son, David Rodecap, as an Army medic.
John's daughter, Jennifer Rodecap, is stationed in Kuwait as an Army medic.
Both mother and wife, Cindy Rodecap is happy to have almost all of her family home for the holidays.
Over the past year, she became a familiar face at the post office shipping off one care package after the other.
"It was tough," Cindy said of having four family members in the Middle East at the same time. "I don't want to have to do it again."
John Rodecap, 51, Jefferson County Rural Fire District No. 3 volunteer fire chief, decided to work in Iraq to earn enough money so he could attend nursing school.
He plans to start next year with the long-range goal of joining a traveling nurse program with his wife.
He got the idea to go to Iraq from his younger brother, Jeremy, who had worked there as a firefighter three years ago.
"We're very competitive. He did it. So I figured I could do it too," John said.
John worked for Wackenhut Services Incorporated, a contract company that provides emergency services to bases in Iraq.
John was stationed in Tal Afar, which is in northwestern Iraq and close enough to see the Syrian and Turkish borders.
While John describe the year as "not real active," he had his share of excitement.
A helicopter crashed, they helped bring a Turkish bus driver back to life after he had a heart attack, and every once in a while they were under fire.
Now he can better relate to the stories his other family members share about their time serving in Iraq.
"I regret the fact that I spent a year away from my family and community, but I was able to accomplish a lot," John said. "It was a once-in-a-lifetime experience."
Copyright 2018 The Lawrence Journal-World. All rights reserved. This material may not be published, broadcast, rewritten or redistributed. We strive to uphold our values for every story published.