Jeremy Rodecap had just stepped outside to smoke a cigarette when he heard the first bullets fire into the sky.
The Iraqi national soccer team had just won, and Rodecap understood that the streaking bullets were fired in celebration.
"It was like watching the Fourth of July," he said.
But the gunfire wasn't lighthearted for long. Insurgents took the gunfire as a cue to fire on a nearby U.S. military base. Soon, Rodecap heard American artillery shooting back across the section of Baghdad.
Gunfire. All of this was so new to Rodecap, who had just arrived from his family's Kansas farm days before. He hadn't even made it to his base yet.
"That's when I realized I wasn't in Kansas," Rodecap said.
During that firefight, that introduction to Iraq, Rodecap quickly slid into a helmet and a flak jacket - attire he typically doesn't need while driving the streets of Topeka as a paramedic.
But last December, Rodecap, by his own choice, began a new life as a contracted firefighter and paramedic in Iraq, stationed on a U.S. military base in the northern Kurdish section of the war-torn country.
This weekend, the rural Douglas County resident was back home, visiting friends and family, relaying stories of what it's like to be charged with protecting a U.S. military base in ways soldiers with rifles can't.
Photo Gallery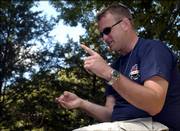 Iraq firefighter
Not so different?
Sure, there are isolated incidents of the violence there - like his trip through Baghdad on his way to the base.
But back home, the 29-year-old said life working on the base wasn't so different from his life back home for the past 11 years.
He would have been an 18-year-old kid back then, wrapping up high school and beginning his first firefighting job, as a volunteer with the township fire department in Williamstown, near Perry.
His dad was the chief there, and his memories of riding along on calls as a kid piqued his interest in battling flames. Then, about four years ago, he started working as a paramedic in Topeka.
Last year, he saw an ad in a national firefighting magazine advertising the Iraq job. It would send him to a U.S. Army base there, where he would tend to traffic accidents, grass fires - duties he had performed for years back home.
"We do exactly what they do," Rodecap said of his fellow firefighters and paramedics back home.
He got the job and now, after seven-plus months on the eight-square-mile base, he understands that it is not exactly the same.
Sure, he still helped battle grass fires, but these often were triggered by detonated bombs or other explosions. Plus, he's spent time training Iraqi firefighters, finding them equipment and making them their own department T-shirts to help them find an identity on the base.
"They're a great group of guys," he said of the Iraqis on base. "They were tickled to death" when they got their new Al-Qayyarah Fire Department shirts. The department was named after the town near the base.
But thousands of miles away, he's still a firefighter, still equipped with a fire department tattoo around his calf and a department emblem on a chain slung around his neck.
Ready for more
Now, he's back home to celebrate his birthday and see the aunts, uncles, nephews and cousins who all showed up at his parents' home to greet him.
He'll head back in a few days to finish his yearlong contract, which runs until December. Then he'll take some time off in Costa Rica, mainly to lie around on the beach and recuperate while working on the surfing skills he picked up during his travels.
But Rodecap said he'd sign up again for another year working on the base as soon as he gets the chance, likely in January.
Since he's been home, he's called going back to the base "going home." He doesn't mean it, but said the little mistake shows where his focus has been.
"He loves it. He's crazy about it," his mom Charlotte said. "We try to support him."
And, in many ways, Rodecap is working to support himself. The work pays well, for sure, and on this trip to Kansas alone he bought a new truck and a new television.
When he gets home for good, he wants to build a little house on the family property and have enough left to pay his own way through nursing school.
Plus, he said, the life over there is always interesting, always new. He's young and has little to tie him down.
"It's nice to be home," he said. "But I'm ready to go back. I've been ready."
Copyright 2018 The Lawrence Journal-World. All rights reserved. This material may not be published, broadcast, rewritten or redistributed. We strive to uphold our values for every story published.