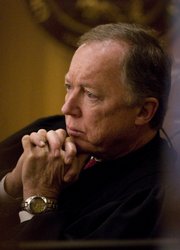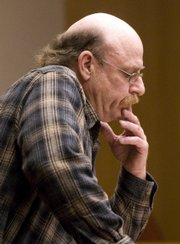 A Lawrence teenager was sentenced Friday morning to more than 14 years in prison for his role in a June 7 double homicide.
Kellam Jones, 17, admitted that he killed 20-year-old Baker University student Roland Klundt during an overnight robbery attempt in an east Lawrence neighborhood.
Jones said he fired approximately eight shots from a semi-automatic rifle, hitting and killing Klundt. That was after Klundt had shot and killed Jones' accomplice, 18-year-old Gage Hauk, McLouth, who was armed with an air pistol.
Dressed in a red jail uniform, Jones looked down at a table and wiped tears from his eyes as Klundt's parents talked about their son's life and his death.
"The whole world lost something when he was killed," said Heather Hein, Klundt's mother.
"His potential … will never be known because of all the selfish, self-centered, non-remorseful criminal acts of Kellam Jones," said Sid Klundt, the victim's father.
After the family's remarks, Douglas County District Judge Michael Malone took a short recess and returned to hand down the maximum sentence allowed under Kansas Sentencing Guidelines to Jones, despite a plea deal that requested lesser time.
As part of the deal, in which Jones pleaded guilty to second-degree murder, attempted aggravated robbery and attempted aggravated burglary on Nov. 13, prosecutors requested a standard prison sentence of 13 years and five months.
Malone increased that sentence by seven months Friday morning.
Prosecutors said Jones, who was 16 at the time of the crime, shot Klundt in the neck and face, when Hauk and Jones went to Klundt's home, 1311 Del., to rob him of drugs and money.
On Friday, Jones expressed remorse for his actions.
"I believe there's nothing I can say to justify my actions or show how I feel," he said in court. "I'd just like to apologize to the family for everything."
Jones, who has no prior criminal record, was charged as an adult with aggravated robbery and felony first-degree murder in the case and would have faced 20 years to life in prison if convicted of the murder charge. But District Attorney Charles Branson said it was possible a jury could have found Jones guilty of lesser charges and that the plea deal guaranteed Jones would spend significant time in prison.
As part of the deal, prosecutors said they wouldn't file additional charges against Jones for a robbery and burglary attempt that reportedly occurred at the house a week before. He also will not face a misdemeanor possession of marijuana charge.
Jones was represented by Julia Spainhour, a defense attorney of the Northeast Kansas Conflict Office. The case was prosecuted by Branson and Assistant District Attorney Deborah Moody.
Copyright 2018 The Lawrence Journal-World. All rights reserved. This material may not be published, broadcast, rewritten or redistributed. We strive to uphold our values for every story published.