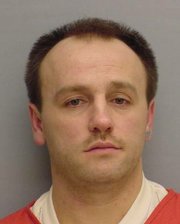 Federal charges have been filed against a man accused of robbing a Lawrence credit union last Friday morning, the U.S. attorney's office announced Wednesday.
On Tuesday, federal agents arrested David Hause Jr. at a Kansas City, Kan., hotel, a spokesman for acting U.S. attorney Marietta Parker said.
"Investigators learned that Hause had been staying in a room rented by an associate," said Jim Cross, U.S. attorney spokesman.
Prosecutors said Hause — who turned 38 two days after the robbery — entered Midwest Regional Credit Union, 1015 W. Sixth St., about 10:15 a.m. Friday.
"(Hause) pushed a white plastic grocery store bag under the teller's window and told a teller to give him all the money," Cross said. "When a branch manager noticed what Hause was doing and told him to leave the credit union, Hause struck her in the face with his right fist and left with the money."
If convicted, Hause faces up to 20 years in federal prison and a $250,000 fine, Cross said.
Hause served prison time for multiple burglaries and thefts in Shawnee and Leavenworth counties between 1988 and 1991, state prison records said. He also escaped from Lansing Correctional Facility in August 1996.
According to Shawnee County District Court records, Hause was arrested Oct. 6 on a fugitive warrant, but a bail bonding company posted a $50,000 surety bond for him Oct. 14.
According to October news reports in Nebraska, the York (Neb.) Police Department had issued a warrant for Hause's arrest as a suspect in an armed bank robbery there Oct. 1, 2007.
No one from the Regency Inn hotel where Hause was arrested was available for comment Wednesday.
Copyright 2018 The Lawrence Journal-World. All rights reserved. This material may not be published, broadcast, rewritten or redistributed. We strive to uphold our values for every story published.