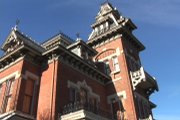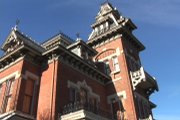 Join "Home and Away" host Lori Carson this week for a holiday visit to the opulent Vaile Mansion in Independence, Mo.
The stone-trimmed red brick Victorian boasts a dazzling display of jewel-toned holiday decor, including more than 50 Christmas trees, during its themed celebration of "A Queen Victoria Christmas."
Built in 1881 by frontier business tycoon Harvey Vaile, the 30-room estate, featured in National Geographic's "Guide to America's Great Houses," is recognized as one of the finest examples of Second Empire Victorian architecture in the United States.
The mansion, open for public tours, offers many features unique to the era, including nine marble fireplaces, flushing toilets and copper bath tubs, a scandalous ceiling mural in the master bedroom and crystal chandeliers originally intended for the Hoover White House.
Lavishly trimmed in Georgia white pine and hand-carved black walnut, this 19th century treasure displays the elegance and ambiance of a bygone era.
"Home and Away" premieres at 6:30 p.m. today on Sunflower Broadband Channel 6.
Each show replays at 9:30 p.m. Monday; 9 a.m., 5:30 p.m. and 9 p.m. Tuesday; 9:30 a.m. and 7 p.m. Wednesday; 10 a.m. and 7:30 p.m. Thursday; 10:30 a.m. Friday; 10 a.m. Saturday; and 9 p.m. Sunday.
Copyright 2018 The Lawrence Journal-World. All rights reserved. This material may not be published, broadcast, rewritten or redistributed. We strive to uphold our values for every story published.