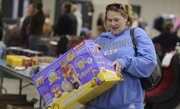 Luis and Paula Valdez, of Lawrence, have five children, and because of The Salvation Army Toy Store they predict a very merry Christmas.
"It's really nice because with us having such a big family, it's so hard to get for everybody," Paula Valdez said. "It makes it easier to get it here. It works out really good for us."
The Valdez family isn't alone. More than 250 families who qualify will visit the toy store in Building 21 at the Douglas County 4-H Fairgrounds between Thursday and Saturday to pick up clothes, toys and other holiday items.
"It's a good time for people to come and not only receive some help, but some Christmas cheer at the same time," said Salvation Army Corps Officer Wes Dalberg.
The Salvation Army and Toys for Tots collect donations for needy families, and the poor state of the economy hasn't helped collections.
"Our donations for toys, I believe, have been a little down over past years. Perhaps that's to be expected," Dalberg said. "We have had more requests for assistance this Christmas."
Howard King said he was overwhelmed with the things he picked up for his two young daughters.
"I found a lot of things that they've been wanting," said King, a Lawrence resident. "It is going to make it really big for my daughters."
A hot item for parents to find is Dora the Explorer gear.
"I can't afford Dora," said Cassandra Fraga, Lawrence. "I can get the littler things. She's a Dora nut. She's going to be thrilled."
King's youngest daughter is also a fan of Dora. "It's just been a really nice experience here."
The donations from more fortunate families ensure a happy holiday season for others in Douglas County.
"You worry about it all year long, whether or not it's going to be good," Paula Valdez said. "Now it will be."
And the families are thankful for a chance to make their kids' Christmas wishes come true.
"I'm supposed to make sure she gets everything she wants and then some," Fraga said. "Make sure these guys keep doing this every year because it's awesome."
The Salvation Army is still looking for toy store volunteers and donations. The store will be open from 9 a.m. to noon and from 1 p.m. to 4 p.m. Friday and from 9 a.m. to noon on Saturday. For more information, call Susan Dalberg at 766-5905.
Copyright 2018 The Lawrence Journal-World. All rights reserved. This material may not be published, broadcast, rewritten or redistributed. We strive to uphold our values for every story published.