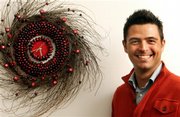 Here's the last in a series of DIY crafts courtesy of HGTV. John Gidding, designer on "Designed to Sell" and expert on "Holiday Inspiration" series, came up with this cranberry and Christmas ball clock:
Supplies:
• Fake cranberries
• A dozen small red Christmas balls
• Hot glue gun
• Straight pins
• Twig or branch wreath
• Plastic foam ring (medium, to fit within wreath), and plastic foam disk (small, to fit inside ring)
• Clock mechanism (available in crafts stores)
• Silver gel pen
• Red acrylic paint
• Paintbrush
Directions:
• Paint plastic foam pieces red.
• To create the clock numbers: Using glue gun, attach a sprinkling of cranberries on the twig wreath in groups of two or three, and attach a few single cranberries farther out on the branches. While it dries, write the numbers 1 through 12 using the silver gel pen on the red Christmas balls. (Practice writing the numbers attractively on paper first.) Affix the numbered balls sequentially onto outer area of twig wreath (Christmas balls with a small wire attached are easiest to use, but they can also be glued on).
• To create the middle ring of the clock face: Pin cranberries in neat rows to completely cover plastic foam ring.
• To create the inside ring of the clock face: Affix the clock mechanism to the plastic foam disk as the face of the clock, and pin cranberries to edge of the disk (so they don't impede the movement of the clock hands).
• To put it together: Attach cranberry ring to the wall where you'd like to display the clock, then affix the twig wreath so that it fits around the ring. Affix the clock face and mechanism in the very middle of the ring.
Copyright 2018 The Associated Press. All rights reserved. This material may not be published, broadcast, rewritten or redistributed. We strive to uphold our values for every story published.