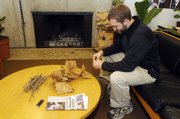 A crackling fire in the fireplace could be just the thing to warm up a blustery Kansas winter. So before weak flames, toxic fumes or a dirty chimney send you to the thermostat in surrender, an Eagle Scout and a chimney sweep offer these tips and tricks for building a fire in your home, safely and effectively.
Heat, fuel and oxygen are all you need to start a fire in your fireplace or in the woods, according to Phillip Wrigley. But the 23-year-old assistant Boy Scout leader knows it's not always as easy as one, two, three. After building fires at campsites, he knows which materials in your backyard will make the best flames and which are better left for the birds.
• Shred a leaf off its vein and use the vein as tinder. It's dry and catches fire easily.
• Never burn poisonous leaves, like poison ivy. The poison will vaporize, and you can breathe it into your lungs.
• Smaller materials burn more easily and quickly. Always start small, but add larger materials to increase the fire's longevity.
• Oxygen is essential to a fire. Always space out materials. A teepee shape holds itself up and allows the fire to take in air.
• If unsure how much tinder and kindling to use, the Boy Scouts use this guideline: Gather enough tinder to fill a hat once and enough kindling to fill a hat twice.
• Have all materials ready to go before you start to build a fire.
Steve Grammer of Soots Me chimney sweeping has seen the results of pizza boxes in the fireplace and other unwise kindling choices in his 20 years as a chimney sweep. Grammer, 49, says the only way to make a safe fire is to keep it clean.
• Something in the flue, like a birds nest, will cause the house to fill with smoke, so be sure it is empty before building your first fire of the season.
• The National Chimney Sweep Guild recommends a chimney inspection once a year, but Grammer said unless you've had a flue fire, every two to three years should be sufficient. He said it is not a do-it-yourself job.
• Walnut wood makes good furniture because it holds resin. The same thing makes it terrible fuel for the fireplace because the resin dirties the chimney.
• Never burn pine balls off of the Christmas tree or any type of trash because it could cause a chimney fire.
• If burning newspaper, keep two things in mind: Trap it under kinder, but don't throw it on top. Don't burn colored ink because it becomes toxic. f
Copyright 2018 The Lawrence Journal-World. All rights reserved. This material may not be published, broadcast, rewritten or redistributed. We strive to uphold our values for every story published.